The Bermuda Health Foundation was honoured to present Dr. Edward Schultz, Chief of Emergency Services and Hyperbaric Medicine at the King Edward VII Memorial Hospital, with the 15th Annual Salute to Service Award on Friday, June 30, 2017. The Awards Luncheon was once again held at the Hamilton Princess.
The Bermuda Health Foundation said they believe that Dr. Schultz's speech was "so profound" that they are sharing it in its entirety.
"I have been asked to say a few words after receiving this award. Those of you in the audience who know me will realize that this was somewhat problematic because it's always been difficult for me to "just say a few words". So I will try to be fairly brief and "stick to the point".
"First of all, I would like to thank the Bermuda Health Foundation for selecting me as this year's recipient of the award. It is truly a very great honor which I don't really feel that I deserve. I can think of numerous individuals and organizations in Bermuda who I feel are far more deserving of this recognition.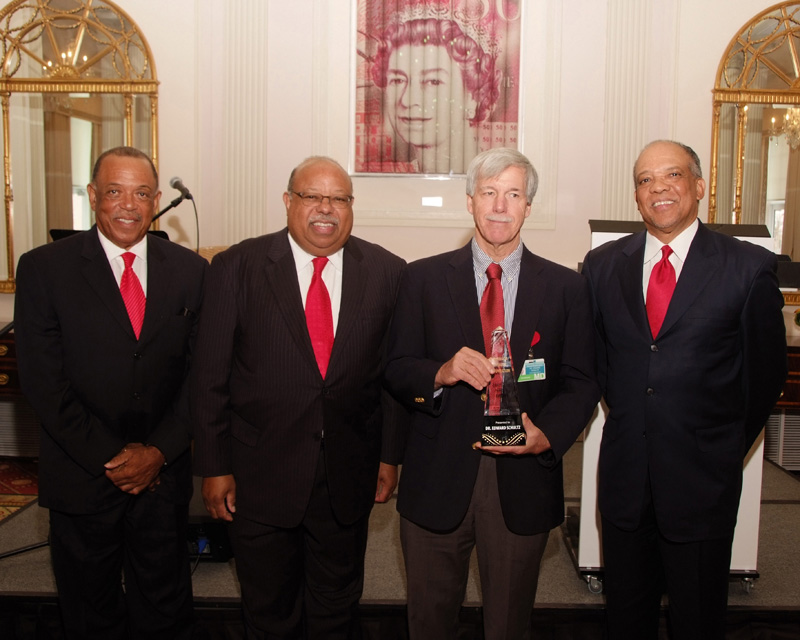 "Therefore, I would like to accept this award on behalf of my colleagues in Emergency Medical Services and the Emergency Department at King Edward VII Memorial Hospital as well as my co-workers in the Hyperbaric & Wound Care Unit at KEMH and the Lamb Foggo Urgent Care Center. They are the real heroes – the professionals who deliver outstanding prehospital and emergency care 24 hours a day 365 days a year, provide a first rate hyperbaric and wound care service, or staff the Urgent Care Center during what are consistently "unsocial" hours.
"These are the people that we all rely on – any time of the day or night -when we, or our friends, or family members are ill or injured. Leaders often receive prestigious awards – but I wish to make it abundantly clear that I could have achieved nothing over the course of my career at KEMH without the incredible support and hard work provided by all of my colleagues in these services. In particular, I would like to thank my deputy, for the last 15 years, Dr. Roslyn Bascombe-Adams.
"We have always worked together as a team, dividing up the many demands and responsibilities of Emergency Services and I could never have managed the department without her assistance. I would also like to recognize the many individuals – too numerous to mention – in the Bermuda Fire and Rescue Service, Bermuda Police Service, Bermuda Regiment, Ministry of Health, and St. Johns Ambulance Service as well as Chief of Staff Office, Nursing Department, Human Resources Department, Departments of Medicine, Surgery, Anesthesia, Pediatrics, Obstetrics & Gynecology, Educational Services / Nursing Staff Development Office and the Quality & Risk Management Departments at KEMH that I have the great privilege of working with during my tenure at KEMH.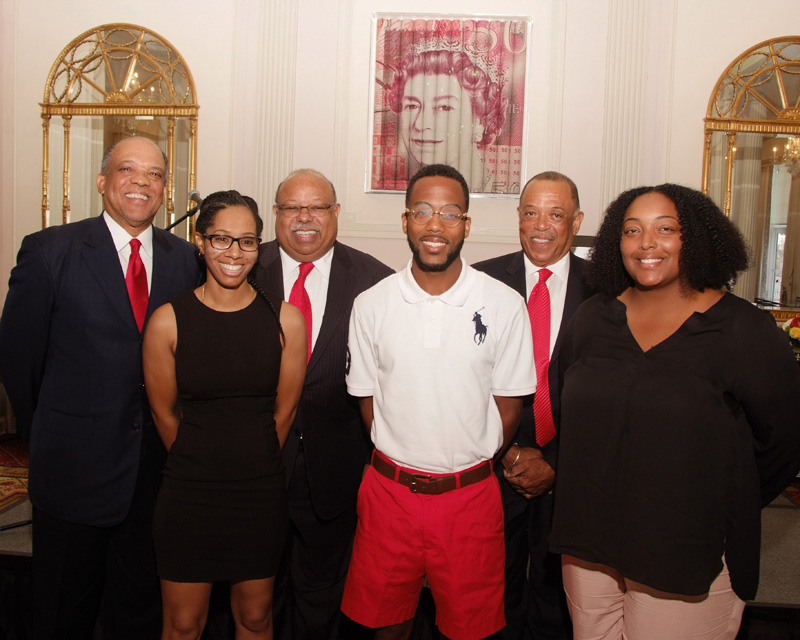 "Finally, I would like to thank my wife of 40 years, Crystal, for always being there and supporting me. She has had to "share me" with KEMH for the majority of our marriage and has had to endure all the times that I wasn't there for her because I was working a long shift at the hospital, teaching at night, or spending days at a time away from her during the hospital's response to hurricanes.
"I have been extraordinarily blessed to have been able to serve this community as the physician leader of Emergency Services over the last 3 decades and I next want to acknowledge my heartfelt thanks to the Bermuda Hospitals Board for placing their trust in me over this very long period of time. This has been the pinnacle of my professional career, and I believe that those who know me best are aware that every day of my employment at KEMH, I have never taken this honor "for granted".
"I moved to Bermuda nearly half a century ago when I was 15 years old. I immediately fell in love with this country – the diversity and friendliness of its people, its culture, climate, traditions, and its maritime history and connections with the sea. I knew from the very start, that what I wanted most in life was to live here and serve this community. This desire greatly impacted my decision to enter the field of medicine as opposed to pursuing a career in scientific research.
"After completing my medical training overseas, I had to live and work in the Miami area for an additional 8 years before an opportunity became available to return to Bermuda on a full-time basis. When I was interviewed by the BHB and asked how long I would work for the hospital if they gave me the job – I vowed that I would commit to working at KEMH for "the rest of my professional life" if selected for the post.
"Ironically, today marks the end of my 29th year as physician leader of the ED at KEMH – so I feel that I have fulfilled my promise in this regard. In terms of milestones, today also marks my 40th year of working in Emergency departments as a salaried physician.
"I am very old-fashioned in many ways and still believe that it is important to have rules and standards to guide us through life. Honesty, integrity, and dedication to service are not just words –these are values to live by. My parents had many faults, but my mother, who was a registered nurse, taught me two very important maxims at an early age- and these have been principles that I have always tried to adhere to. First, my mother used to say that she "had emptied a lot of bedpans during the course of her nursing career and everyone's excrement [she didn't use quite those words] smells exactly the same".
"The basic concept here is that everyone in this world has equal value, and all should be treated with the same dignity and respect – because no one is any "better" than anyone else. This has been one of my "golden rules" in dealing with people throughout the course of my professional career.
"When, I came to KEMH in 1988, I don't think that everyone was being treated equally – at least in the Emergency Department. I truly believe that there were differences in care based on race, wealth, and social status – rather than true medical need – which I found totally unacceptable. I would hope that if I leave no other legacy behind – it would be that there is now a single standard of care for all Bermudians, Guest Workers, or Tourists when they attend the Emergency Department, Wound Care Unit, or Lamb Foggo Urgent Care Center.
"The second lesson that my mother taught me was that the most valuable thing that anyone has in the world is their health. The corollary to this is that when healthcare professionals treat patients, they have a solemn duty to provide the best care possible at all times – because they have been entrusted with another person's most precious asset – that individual's health and wellbeing. This is a tremendous responsibility. Medicine is a very humbling profession.
"The longer that you practice, the more that you realize how little you actually know. No matter how hard we try, as physicians, or nurses, or EMTs, we don't always get it right. Additionally, it is a sad fact of life that we cannot save everyone. Working in the Emergency Department can be exhilarating, when you save someone in cardiac arrest – literally "bringing them back from the dead" – but it can also be devastating when you have to tell a family that you were unable to save their only child who was fatally injured in an accident.
"The only way that you get through this roller-coaster of emotions is to know –at the end of the day – that you have done your very best, for every patient; have practiced medicine with due diligence; and treated each patient as if they were a member of your own family.
"I have always had a clear vision of my responsibilities as the Chief of Emergency Services at KEMH.
"My first and foremost duty is to my patients, because upon graduation from medical school, I took an oath, as a physician, to commit my working life to putting them first in addressing their medical needs.
"In Medicine it is actions and not just words that really matter. It has always been my contention that patients know in a "heartbeat" when we, as healthcare professionals, really care about them. Treating patients in Bermuda has been one of my greatest joys in life, and the most rewarding part of my job. I am awed nearly every day by the goodness and bravery of the people that I come into contact with as they cope with terrible illnesses and injuries. We all take our health for granted. Being sick puts the things that matter in life into the proper perspective.
"My next responsibility is to the BHB as I am employed by this institution to manage the units under my supervision. My remand is simple -to ensure that my teams provide the best care possible. While I am not paid to be a "friend" or sanction substandard care – it can be very lonely in a leadership position. On numerous occasions I have had to critique care provided by colleagues that I greatly admire and respect.
"I do this with the knowledge that hindsight is always "20-20" and it is easy to make judgements based on a set of information that was not available to the initial care provider. Nevertheless it is crucial that we constantly work to improve the care that we deliver.
"My last responsibility is to my staff. Although it is my duty to be critical of them when I think that we failed to meet the accepted standard of care or failed to communicate effectively with a patient or their family – I also know how hard they work and how many challenges that they must overcome on a daily basis to deliver outstanding patient care. And I would hope that they know that I will always support them fully when they did their best and the outcome was less than optimal because of circumstances or disease processes that were beyond our control.
"In approaching the end of my professional career, I can honestly say that there is virtually nothing that I would do differently if I had to do it all over again – although I do have two regrets. One is that I wasn't a more knowledgeable and gifted physician for my patients and the other is that I wasn't a better leader. I realize that throughout the course of my work at KEMH I have tended to be overly critical of my colleagues, and far less supportive at times than I probably should have been –at least in part for the reasons already stated.
"Finally, in closing I would like to raise one last matter. As most of you probably know, I will be retiring at the end of November as I will be 65 and this is official BHB policy. To the hospital's credit, they have indicated that they might want me to stay on a little longer. Again, however it reverts to what is fair – and there is no reason that I should be treated any differently than anyone else who is a long-serving employee.
"As to my personal circumstances, I know that it is time to step down. The analogy is that every gifted athlete must decide when to retire from their sports career. It is far better to leave a team – or a vocation – when you are still respected and "at the top of your game" than when you become an embarrassment, and can no longer perform at a high level. In short, one should leave while they are still an asset and not a liability for the organization. As Bermudian's like to say, "I have had a lot of good innings".
"Nevertheless, there are many long serving employees in Bermuda who are forced to retire at a set age when they are still highly motivated, capable, and have the necessary skills to continue in their post. As an example, I see Dr. Bert McPhee in the audience. Although he was forced to retire at age 65, he is still practicing medicine 26 years later and has one of the sharpest intellects of anyone I know.
"Many seniors in our community desperately need an adequate income to survive; can make valuable contributions to their chosen field of endeavor; and have a strong work ethic. In Bermuda we have legislated against discrimination based on race, religion, gender, and sexual orientation yet we still sanction institutionalized discrimination based on age. Surely this is not just and continuing employment should be based on competency rather than an arbitrary number. I truly believe, that as a country, we can do much better. So I hope that my retirement might serve, in some small way, to promote conversation about this topic."
Prior to presenting the Salute to Service Award to Dr. Schultz, the Bermuda Health Foundation presented scholarships to three students studying for careers in the medical field. The three students, who each received $7,500.00 were as follows:
Aaron Evans, a recent graduate of the University of Georgia where he excelled as a scholar/athlete, concentrating in track and field. He has won several awards both locally and internationally for his involvement in track and field. Aaron will be entering the City University of London in September 2017 to complete studies in Health Sciences, majoring in Health Economics
Shuntelle Paynter who is currently at student at North Carolina A&T State University where she is studying towards a Masters of Science Degree is Mental Health Counselling as well as Rehabilitation Counseling. She received her undergraduate degree from Teeside University in Middlesbrough in the United Kingdom.
Desiree Waldron, is a student at Winston Salem State University. Desiree is hoping to obtain a Bachelor of Science in Nursing in 2019. Her ultimate goal to become a Nurse Practitioner operating her own nursing home.
On Saturday, July 1, 2017, the 15th Annual Bermuda Health Foundation Charity Golf tournament was played at Belmont Hill Golf Club.
Members of the Bermuda Health Foundation Board are Chairman, Philip Butterfield, Dr. Ewart Brown, Vincent Hollinsid and Charles Brown.

Read More About