Forty entrepreneurs, business owners, and other interested parties got exclusive tips on how to establish a secure foundation for their businesses at the successful seminar entitled, "Is Your Business Future Secure" held on Tuesday morning, July 25th, 2017, hosted by the Bermuda Economic Development Corporation [BEDC].
The Cathedral Hall on Church Street was the setting for this information packed seminar. Attendees received detailed information, broken into three parts which covered, business formation, protecting your intellectual property and lastly securing your business data.
The opening welcome from BEDC Executive Director, Erica Smith set the stage for the presentations. She stated, "BEDC recognizes the importance of business owners starting with the correct foundation in order to ensure success in the future."
Aubrey Pennyman, Registrar General; Erica Smith, BEDC Executive Director; Stephen Lowe, Registrar of Companies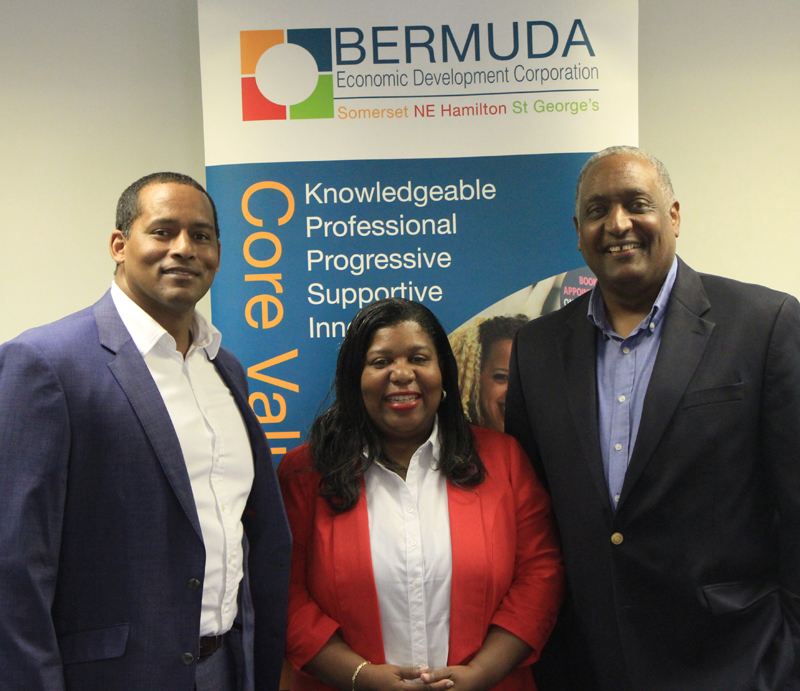 Melanie Fullerton, Associate at Cox Hallett Wilkinson, explained the importance of identifying the right formation for your company. Melanie reviewed the differences between a sole proprietorship, general and limited partnerships, a company limited by shares [LTD] and a Limited Liability Company [LLC]. Ms Fullerton remarked that "there is a misconception that the cost to form an LTD. is cost prohibitive for new companies, but you have to look at all of the costs associated with establishing a company to determine the best fit for you."
For those that decide to establish a company as a registered entity, Mr. Stephen Lowe, Registrar of Companies for the Bermuda Government, shared how his team at the Registrar of Companies could assist by maintaining company registrations. Mr. Lowe stated that "Our goal at the Registrar of Companies is to promote good commercial relations in Bermuda's business community".
Mr. Lowe went on to review the services they offered and encouraged attendees to maintain good standing by complying with the Companies Act 1981 as well as the other 14 Acts that they administer.
Nancy Volesky, Consultant, Data & Privacy Project; Erica Smith, BEDC Executive Director; Melanie Fullerton, Associate, Cox Hallett Wilkinson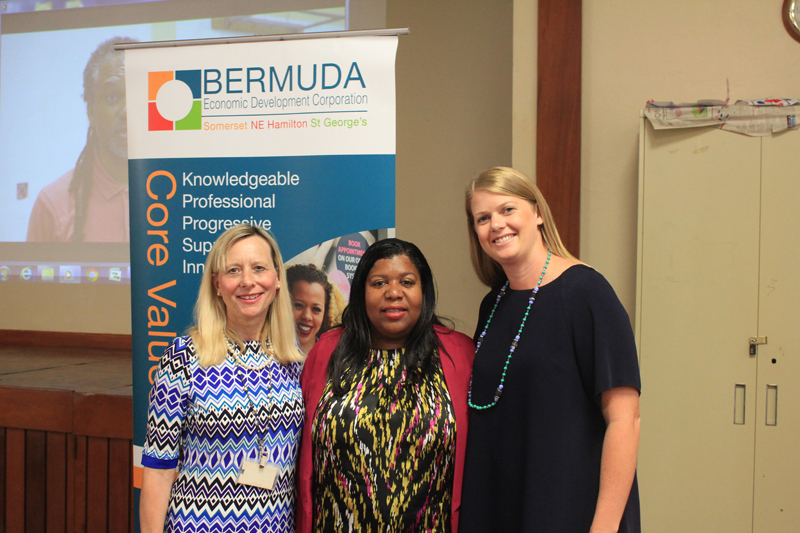 Part II of the seminar focused on protecting intellectual property. Ms. Fullerton set the stage by defining what makes up intellectual property: creations of the mind, artistic works, designs, symbols, names and images, things used for commerce, patents, copyrights, and trademarks. She commented that "an idea alone does not count as intellectual property, but any words you write down does."
Following Ms. Fullerton, Aubrey Pennyman the Registrar General further explained the importance of protecting your intellectual property [IP]. Mr. Pennyman stated "Protecting your IP can set your business apart from competitors, as well as be sold or licensed which can provide a source of revenue." He further advised that "The right type of IP protection can help you stop people from stealing or copying your inventions, names of products, design or look of your product and things you write make or produce" and that the Bermuda Government's Registry General is there to assist.
Nancy Volesky, Consultant, Privacy & Data Protection for the Bermuda Government, closed out the seminar in Part III with her presentation on the need to ensure that client data and privacy are protected. Ms. Volesky was a key member of the team that authored the Personal Information Protection Act [PIPA]. She explained the importance of business owners being compliant with the Act when it comes into effect in 2018.
Some of the key areas that she highlighted included: managing clients' personal information, using the personal information for only what it was intended, only capturing information that is required for the purpose of use and only maintain information for as long as you need to. Ms. Volesky stated that a Privacy Commissioner will be appointed to manage this process, but it is the intent that this new legislation will be a cooperative effort with business owners establishing best practices with assistance as required.
She suggested entrepreneurs prepare themselves by determining how to internally meet PIPA requirements, prepare the necessary policies and procedures and appoint a Privacy Officer who can be someone that already exists within the organization. Ms. Volesky offered an example of compliance, "The sign at the pharmacy that tells people where to stand gives the person at the counter adequate space so that their personal information that is being shared verbally is protected."
Mrs. Smith wrapped up the seminar with a thank you to presenters and attendees and stated, "The seminar was a success and accomplished what we wanted which was to share knowledge about the steps to create a solid foundation when establishing your business. There was a lot of information that was shared in this seminar and the BEDC is committed to ensuring that this type of information is made available to all local business owners." One attendee remarked, "All the information was very relevant. BEDC did a wonderful job in bringing these speakers together."
Read More About