Lindo's Group of Companies today [July 13] announced that the 2017 Lindo's to Lindo's has raised $25,860 for the Bermuda Diabetes Association [BDA].
The 10K run and 4-mile walk, which saw contestants running and walking from the Lindo's Family Foods in Warwick to Lindo's Market in Devonshire, were organised in conjunction with the BDA and the Mid Atlantic Athletic Club [MAAC] and sanctioned by the Bermuda National Athletics Association.
Money was raised through entrance fees and pledges collected by entrants. A pair of round trip plane tickets to the East Coast of the United States – kindly donated by Jet Blue – were awarded to ten-year-old Jannis Roberts, a student at St George's Preparatory, who raised the most money individually, with $701. Jannis took part in the event as part of the AC Endeavour Programme, which raised more than $4,500 as a group.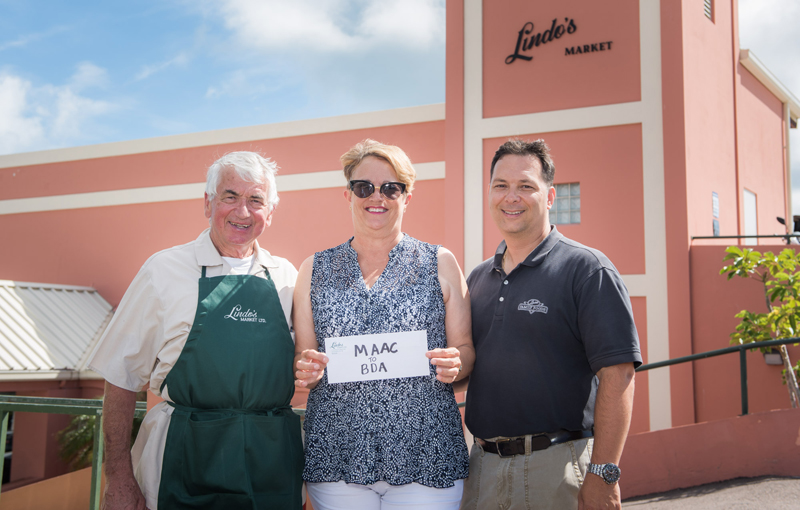 The profits raised by entrants have been donated to the BDA to help fund their medical assistance programme – helping Bermudians to pay for much needed medication for diabetics – and to help finance the BDA's move to a new building. The BDA recently purchased a new building and funds will help with refurbishment and renovation.
Zach Moniz, Lindo's Family Foods Manager, said: "We are delighted to have been able to help raise these funds for the Bermuda Diabetes Association. The prevalence of diabetes is a huge concern in Bermuda and we are pleased to be able to support the Association in their incredibly important work.
"We would like to thank everyone who turned up on the day as well as race organisers Madison Brewer and Alison Schindel, without whom none of this would have been possible."
Sarah Burrows, Executive Director at the Bermuda Diabetes Association, said "We are very grateful to Lindo's and the Mid Atlantic Athletic Club for their hard work in making this donation possible. Bermuda has a diabetes rate of 14 per cent – nearly double global average – and the work we do to support those suffering it would not be possible without the support of the generous public."
Ian Davies, Treasurer of the Mid Atlantic Athletics Club, said: "We are proud to have been able to support Lindo's and the Bermuda Diabetes Association in the invaluable support that they offer so many Bermudians and we are grateful to so many of our members who took part in the event."
Jannis Roberts, the recipient of the Jet Blue tickets, said: "I was motivated to raise as much money as I could for the Bermuda Diabetes Association because my uncle has diabetes and I wanted to help people like him. The entire experience was enjoyable because I was working with my Endeavour team, off the water, to help a worthy charity."

Read More About