OUTBermuda is getting set to host a Family Fun Day on Saturday, August 26 from 11.00am to 7.00pm at Tobacco Bay Beach.
A spokesperson said, "There is an African proverb that says, 'A family tie is like a tree, it can bend but it cannot break.'
"OUTBermuda is an organization that was created to provide support for relationships and family. Families come in all shapes and forms. From the strong single parent family to the wonderful aunts and uncles and grandparents who are raising children. Families can have same or opposite gender parents. Brothers and sisters to foster parents to just a couple in love.
"These are all families and OUTBermuda values all families. And just like the proverb says, the winds of life may try to break a family, but thanks to those strong ties and bonds, a family can endure. This is why we are hosting a Family Fun Day.
"We want to celebrate all families, because all families are special in their own way and all families are equally valuable."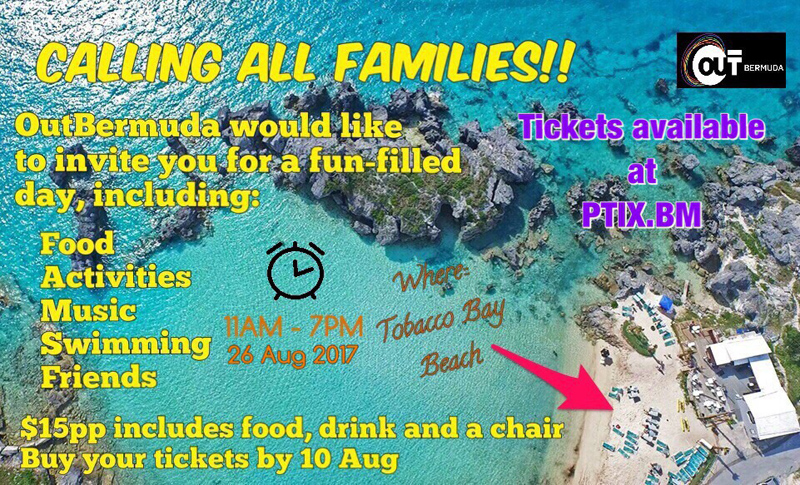 "So come out and enjoy a fun day at Tobacco Bay. You can come anytime between 11AM-7PM on Saturday, August 26th. There will also be a host of beach equipment including water volleyball, a pool table and non-motorized water-sports. There will be a DJ playing the best of Soca, 80s, 90s and top 40s.
"Tobacco Bay also has free WiFi and showers.
"OUTBermuda is covering some of the costs and we are asking for people to purchase a small ticket of $15 per person by August 11th. This will cover one meal, one drink [soft or adult beverage] and a beach chair. We are also asking for donations to help cover people who may have financial difficulty.
"If you need financial assistance for the family day, please contact us at outbermuda@gmail.com. You can purchase your tickets at www.ptix.bm/OUTBermuda."
Read More About
Category: All, Entertainment