News that BFIS provided $345,000 in scholarship awards, Israel Bennett received the Conyers Dill & Pearman Leadership Scholarship Award, the Lindo's to Lindo's race raised more than $25,000 for charity, Warwick Academy students achieved "outstanding" results in their exams, and Indio Francis won the Spirit Voyage Scholarship were all some of the positive news stories from the past week.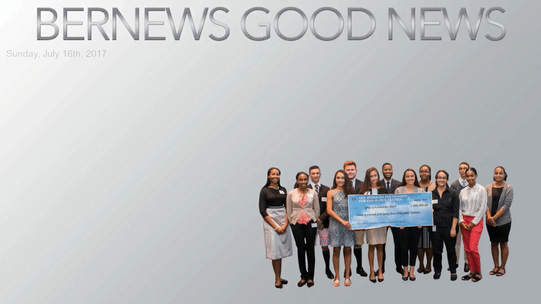 In additional good news, BAC plumbing apprentice Shaquille Jones graduated from Bermuda College, the BHS robotics team is competing in Washington, BCL supported a high school sloop experience, Riley Robinson was named CPAD's Member of the Month, Kwame Tucker and Kwasi James were named cricket players of the week, and a new book titled 'Dance Bermuda' celebrates the history of dance on the island.
We also posted various community photo galleries, including coverage of the Bermuda Stroke Play Championships, students participating in the 'Read to Feed' event, Southampton Rangers retaining the Western County Cricket Cup, the BLTA Junior Tennis Tournament, the Cycling Race Championships, and power boat racing.
In an effort to highlight some of positive news happening in our community, we supplement our standard morning and evening email newsletters with a special Sunday "Good News" email newsletter edition, and also produce a highlight video and article which strictly focuses on the positive news about Bermuda and Bermudians from the past week.
You can sign up to have the free newsletter delivered via email here, and/or access the links below. In addition, for those who like positive news, please feel free to visit our sister site ForeverBermuda.com, which seeks to showcase the best of Bermuda as well as provide information and listings for visitor related services.
Links to some of the 'good news' from the past week are below:

Read More About