A young musician on vacation to the island paid a visit to the Royal Bermuda Regiment's Warwick Camp to see the Band and Corps of Drums tune up for a performance at Harbour Nights tomorrow.
Little James Grassick, aged 9, who plays for the Peebles Burgh Silver Band in Peebles in the Scottish Borders, was invited to see the soldiers practice after a chance meeting in Hamilton with a serving soldier.
James, who was born in Bermuda while mother Lee worked here, said: "This is the best part of my holiday."
And the youngster, who joined his local band aged just six and who last year was awarded a trophy for most improved young player, judged: "The Regiment band is better than the Peebles one."
James watched the soldiers practice their routines with his mother and Bermudian uncle, Vaughn Davis.
Ms Grassick said: "He's loving it – he's fascinated looking at all the instruments. He likes the drums because he likes the Royal Marines band as well. But his favourite is the euphonium."
Bermuda beat: James Grassick, a visitor from Scotland and a junior bandsman, beats the bass drum of the RBR Band & Corps of Drums played by Drummer Che Edmead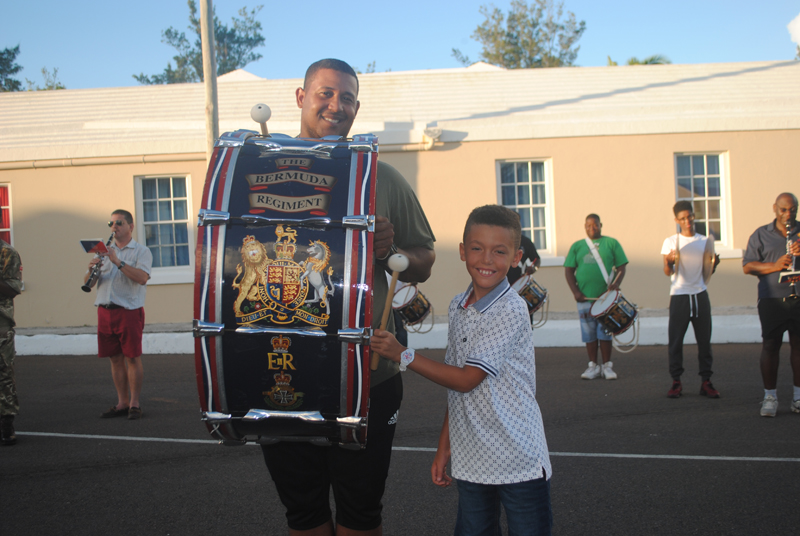 Major Dwight Robinson, Director of Music for the RBR, said he was delighted to welcome a visitor – and encourage a love of music in young people.
He added: "They say the band is the forward face of the Regiment and we're happy to play that role.
"It's a very important part of Bermudian culture – we don't take that lightly and we want to show the Regiment in a good light. That's what we're here for."
Maj. Robinson said: "It's good to play for our visitors and that's one thing the band has been known for over the years – whether it is locally, in the hotels or overseas."
The RBR Band and Corps of Drums will be the star attraction at Harbour Night on Wednesday and the troops are also preparing for a trip in September to perform at a major music festival and tattoo in Estes Park, Colorado.
Maj. Robinson added that the band included trained medics, chainsaw operators and instructors in other areas in the RBR.
Visitor and Scottish silver band member James Grassick tries out an RBR Band & Corps of Drums instrument under the expert eye of Director of Music Major Dwight Robinson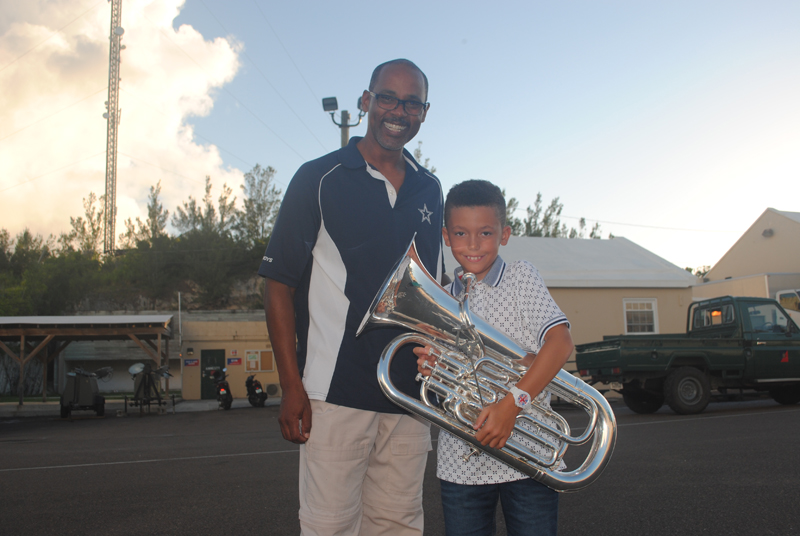 He said: "We're very versatile – it's hurricanes one week and music the next. It highlights the adaptability and capabilities of our soldiers, who are a valuable resource for Bermuda, whatever the occasion."
Maj. Robinson added the current line-up of the band also included five school pupils and students, taken on as part of its summer employment programme.
He said: "It gives school age and college students the opportunity to play along with us and the chance to be exposed to what we do. It also gives us extra musicians to make up our numbers."
And Maj. Robinson said: "We were delighted to have James here – whether people are locals or visitors, music is one thing everybody likes.
"And, as far as interesting younger kids, there is no such thing as too early in terms of exposure to different types and genres of music."

Read More About
Category: All