The Bermuda Chamber of Commerce's Emerging Professionals Division [BEPRO] has partnered with the MIRRORS Programme to host a forum on Thursday, September 7.
A spokesperson said, "Do you believe that everyone has a role to play in supporting all young people's success? If you answered yes, you are encouraged to come out and discover the opportunities available for developing Bermuda's youth and consider which role you can play.
"The discussion, entitled 'Do You Believe Bermuda's Youth Can Be Successful?' will give attendees a better understanding of what the MIRRORS Programme is doing to impact Bermuda's youth."
Meredith Lombardo said, "We are committed to providing our members and outside individuals with educational and community opportunities. BEPRO is delighted to be collaborating with the MIRRORS Programme, with hopes of making a difference in the lives of Bermuda's youth."
"The forum will be led by Ms. Nicola Feldman, Enrolment Manager for MIRRORS Bermuda."
Ms. Feldman said, "MIRRORS creates opportunities for young people to transform their lives through personal development training and coaching services. We foster behavioral changes that promote personal responsibility, healthy relationships and positive contributions to society.
"We were delighted when the Chamber's Emerging Professional's Division [BEPRO] agreed to partner with us on this event. It is our hope that individuals interested in supporting young people on a path to success or those open to personal growth will come out to hear more about the MIRRORS Programme and how they can make a difference."
Ms. Lombardo said, "BEPRO is always interested in growing its general membership with pathways to the executive board. We are actively encouraging all interested young professionals between the ages of 18 and 40 to attend this free event."
"The forum will be held on Thursday, 7 September 2017 in the Bermuda Chamber of Commerce Board Room, 1 Point Pleasant Road, Hamilton and will begin at 5:30 PM. Light refreshments will be served and space is limited. Anyone interested in attending is asked to contact Ms. Lombardo at beprobermuda@gmail.com."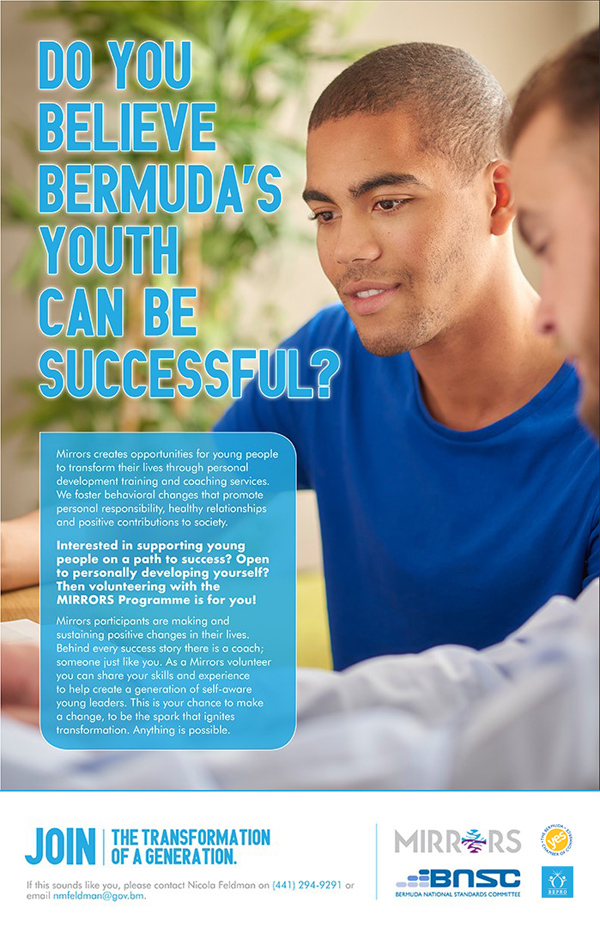 Read More About
Category: All