On Thursday [Aug 17] the Bermuda Friendly Societies Association [BFSA] will hold its 14th annual Cup Match Sportsmanship Award ceremony at Manchester Unity Hall in Hamilton [opposite the People's Pharmacy] commencing at 7 p.m.
"The active membership of the BFSA comprises Six Lodges – The Loyal Mayflower Lodge, The Flower of the Day Lodge, The Princess Royal Union Lodge, Alexandrina Lodge, The Household of Ruth and The Loyal Irresistible Lodge," the BFSA said.
"The awardee this year is Mr. Jordan Desilva, Captain of the Somerset Cup Match Team, who, in the opinion of the Cup Match umpires, best exemplified the principles of good sportsmanship and fair play throughout the 2017 Annual Cricket Classic.
 Somerset Captain Jordan Desilva holds the Cup up after this year's Cup Match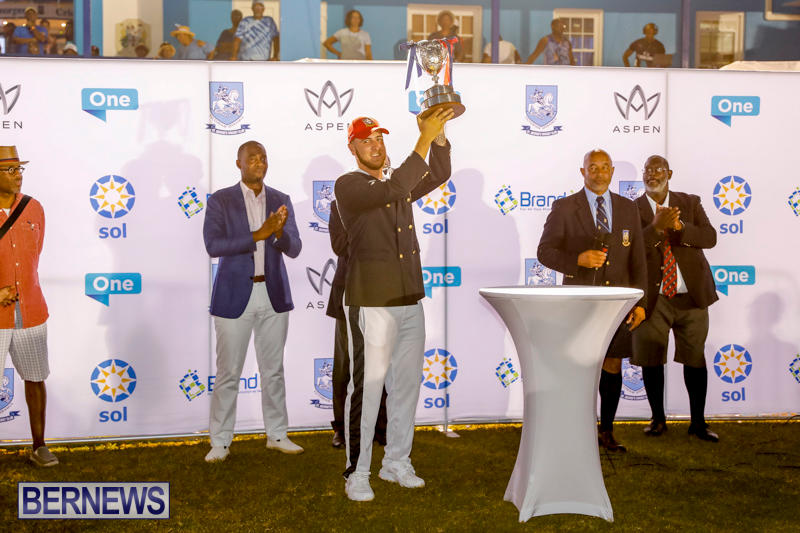 "This year, the ceremony at Manchester Unity Hall will feature as Guest Speaker, Mr. Junius Durrant, The Oldest Surviving Somerset CC Cup Match Team Payer, and Mr. Clay Smith, the 1st BFSA Sportsmanship Award Winner, and former Cup Match Captain and Player for St. Georges CC, as the guest presenter.
"It is anticipated that Cup Match Team members from both the East and the West will also be in attendance for this signature post-Cup Match event as well as representatives from both the Bermuda Government and the Opposition as well as other distinguished guests.
"This award was instituted in 2003 by the Association and first presented to Mr. Clay Smith of the St. Georges C.C. in 2004. The winner is presented with a number of prizes which include the Bermuda Friendly Societies Association Shield, the Emancipation Cup, the Clarence O. Darrell Cup, a personal keepsake cup, and other gifts.
"It should be recalled that the precursor to the Annual Cup Match Classic, were the annual games held on Emancipation Day, which followed the abolition of slavery here in Bermuda. Residents of Bermuda began to take an 'unauthorized' day off from work to celebrate the anniversary of the abolition of slavery, better known as Emancipation Day.
"It became customary to hold annual picnics all over the island to mark the occasion. One of the highlights of the picnics was a friendly cricket match played between the Lodges from the East and West ends of the Island. This match involved men from the Loyal Victoria & Albert Lodge, in Somerset and the Somers Pride of India Lodge in St. George's, who began to meet in friendly rivalry on the cricket pitch.
"In 1901, during the cricket match between the two Friendly Societies, it was suggested by Mr. John Hotter Symonds that the teams play for an Annual Trophy. Members of the Friendly Societies and Lodges raised funds and, in 1902, a silver cup to be played for annually was introduced. The first such "Cup Match" was played in St. George's that year.
"History buffs will recall that, in 1947, two official public holidays were introduced to be observed every year on the Thursday and Friday closest to 1st August. The first day of Cup Match, which as of 1999, is officially designated to represent Emancipation Day while the second day, Somers Day, commemorates the arrival here of Admiral Sir George Somers who colonized these Islands in 1609."

Read More About