On Wednesday, 12 July, The Centre on Philanthropy collaborated with HSBC Bermuda to deliver its first Donors' Forum.
The idea stemmed from the two entities identifying a knowledge gap around charitable giving and community investment between local third, public and private sectors.
The event afforded stakeholders the opportunity to gain an understanding of increased individual sector pressures in 2017, identify best practices and strategies and work towards achieving a significant and collaborative societal impact for our community.
Centre on Philanthropy 2017 Donors' Forum Panel Discussion [pictured from left to right]: Jonathan Starling, Greenrock; Margaret Hallett, Bank of Bermuda Foundation; Beverly Daniels, Salvation Army; Nigel Clark, SCARS and David Lang, Bank of Bermuda Foundation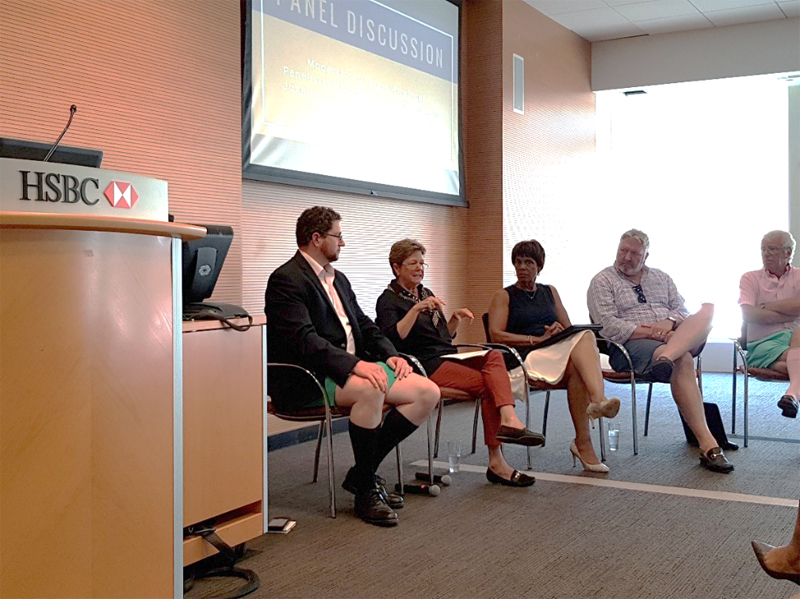 Over 30 core stakeholders attended the all-day thought leadership session comprising of Community Investment Managers of various corporate companies, and Government representatives from the Registrar General and Charity Commissioner offices.
A final thought-provoking panel discussion on the future of charitable giving, featuring donor and non-profit representatives was moderated by internationally recognised and non-profit management subject-matter expert Cristina Wineinger.
Other topics of discussions included:
Understanding the third sector landscape | A 2012 vs 2016 comparison
The 2014 Charities Act | Key amendments
Organisation Accreditation Standards | Bermuda National Standards
Measuring Community Investment Impact | Bermuda Community Foundation
Increased Governance around Charitable Giving | Impacts and Evolution across the sectors
Internationally-recognised and Non-Profit Management subject-matter expert, Cristina Wineinger, moderating The Centre on Philanthropy 2017 Donors' Forum Panel Discussion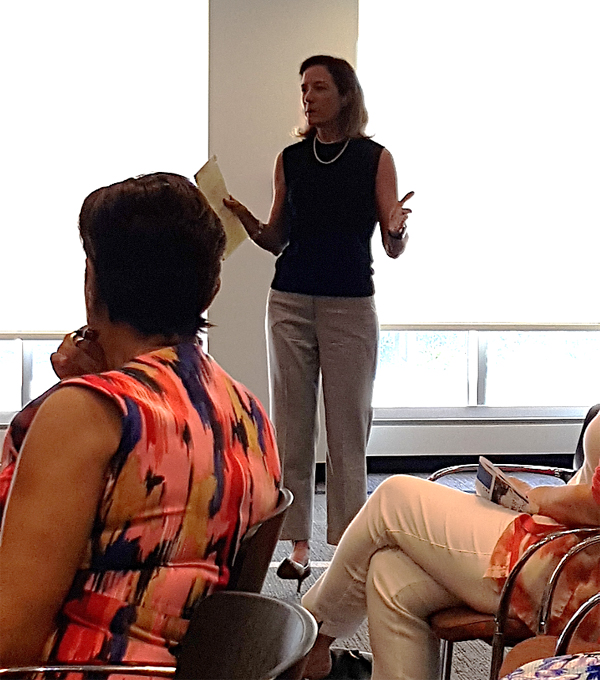 "How we invest and support our community is just as important as the actual dollar amount given," were comments shared by Clesia Pachai, Community Investment Manager, HSBC Bermuda.
"We have noticed a shift in the giving strategies and respective governance across the key donor sectors and stakeholders over the recent years. It is therefore imperative as individual stakeholders that we collaborate to better understand these changes and their overall impacts, while strategically moving forward as a stakeholder group, to address specific needs within our community.
"The hope is that this event will serve as a catalyst for encouraging further open discussions between third sector stakeholders, strengthening our partnerships, our community ties and ultimately the impact."
Elaine Butterfield, Executive Director, Centre on Philanthropy, states, "Bermuda's charities, donors, and boards alike, want more shared direction, support and coordination in doing the work.
"Charities in particular, express real passion about their work and are keenly aware of the need for more collaborative resources to do a better job. There is also agreement that there are far too few mechanisms to facilitate this.
Read More About