The Ministry of Health announced that the World Health Organization [WHO] in conjunction with the Pan American Health Organisation [PAHO], recently declared that Bermuda has "eliminated mother-to-child transmission of HIV and syphilis [EMTCT]—joining a very short list of just five other countries worldwide to have achieved this goal."
"Transmission of HIV from an HIV-positive mother to her child during pregnancy, labour, delivery or breastfeeding is called mother-to-child transmission [MTCT]. The World Health Organization [WHO] has sustainable development goals that place a high importance on preventing MTCT," the Ministry said.
Photo: Front row Ms Susan Jatto [Laboratory Supervisor] , Ms Maeve DeMello [EMTCT Regional Secretariat, PAHO], Ms Gloria Burgess [Maternal Health & Family Planning, Nursing Coordinator], Mr Javier Vasquez [PAHO-Washington DC, Human Rights lawyer], Ms Sheila Samiel [PAHO-Jamaica, Consultant] , Ms Patricia Phillip [Rep. Caribbean Regional Network of People Living with HIV/AIDS], Barbados], Ms Dy-Juan DeRoza [Assessment Officer] , Dr Cheryl Peek-Ball [Chief Medical Officer], Ms Kim Ball [Public Health Nurse, HIV/AIDS] Back rowMs Valerie Wilson [Dir. Caribbean Laboratory Foundation], Mr Ralph Midy [HIV Regional Advisor, WHO-UNICEF], Dr Merceline Dahl-Regis [PAHO consultant, team leader], Dr Tun Ye [Epidemiologist and Data Expert, CDC, Atlanta]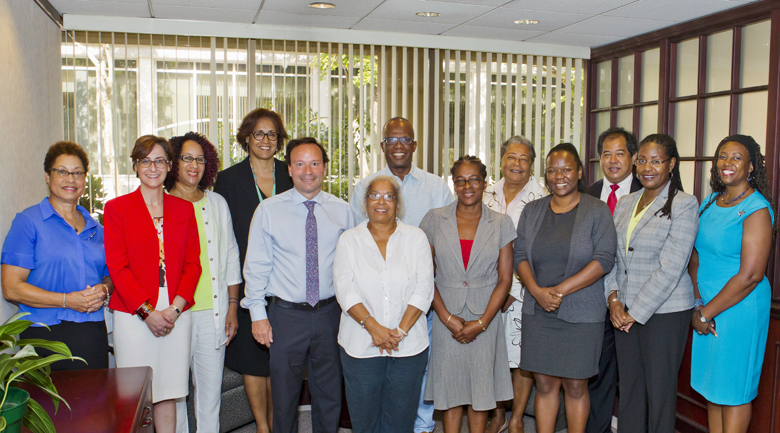 The Ministry said, "Bermuda's Department of Health undertook a process to confirm the elimination of MTCT began in September 2015, under the guidance of the Pan-American Health Organization [PAHO].
"It required extensive review of documentation, tracing and verification, a programme of spot-checking the relevant population by our Epidemiology and Surveillance Unit, as well as collaboration from health experts at the Department of Health's Clinical Laboratory, the Maternal Health Programme, the Communicable Disease Control Clinic and other partners including the Bermuda Hospitals Board.
"This is truly a remarkable achievement for our team and we are grateful to the Pan-American Health Organisation and the World Health Organisation for their diligence in verifying our results. While it is excellent news for the healthcare professionals who worked together to realize this result, this really is wonderful news for all prospective parents. This means newborns in Bermuda can have a healthy start in life," said Chief Medical Officer Dr. Cheryl Peek-Ball.
Minister of Health Kim Wilson added "The Ministry of Health staff have worked very hard to meet this coveted and exceptional standard. They worked collaboratively with many colleagues at BHB and in the community who went above and beyond to support the process during the past year. Bermuda will now strive to maintain this level of excellence."
To be declared free from mother-to-child transmission of HIV and Syphilis, the Ministry of Health team were required to show, among others:
The rate of mother-to-child transmission of HIV was less than 2%
New cases of HIV infections in infants was 0.3 or less per 1,000 live births
Cases of congenital syphilis of 0.5 or less per 1,000 births, including stillbirths
More than 95% of mothers had antenatal visits that included testing for HIV and Syphilis
Treatment for HIV and Syphilis was available to more than 95% of pregnant women with HIV and/or syphilis
Bermuda had a monitoring and surveillance system to capture national data on the transmission
The laboratory services and testing on the island are reliable, accurate and timely
This success will be published in the WHO Weekly Epidemiological Record. For more information visit: gov.bm/health-data-and-monitoring
*Cuba [2015], Belarus [2016], Thailand [2016], Armenia [HIV only], Republic of Moldova [Syphilis only]

Read More About