OBMI Bermuda has announced their 2017 summer architectural and interior design interns, including Francis Mussenden, Tre Caines, Chanika Jones and Kiarrah Rogers.
Colin Campbell, Reginal Director of OBMI Architecture, Interior Design and Landscape Architecture, said, "OBMI Bermuda is very proud of our 2017 summer interns. They are all at various stages of their academic and professional careers from heading off to University for their first year of study to having recently graduated in June 2017.
"OBMI has a long history of mentoring architectural and interior design students in their chosen career paths. This year we have had the pleasure of having four such students join us.
"Francis Mussenden is entering his first year of architectural study, Tre Caines is returning to university in the UK for his second year of architectural study, Chanika Jones is studying Interior Design and will graduate next year and Kiarrah Rogers is a recent Landscape Architecture graduate."
Colin Campbell, Regional Director; Chanika Jones, Interior Design Student; Tre Caines, 2nd year Architecture Student; Kiarrah Rogers, Landscape Architecture Graduate; Francis Mussenden, 1st year Architecture Student: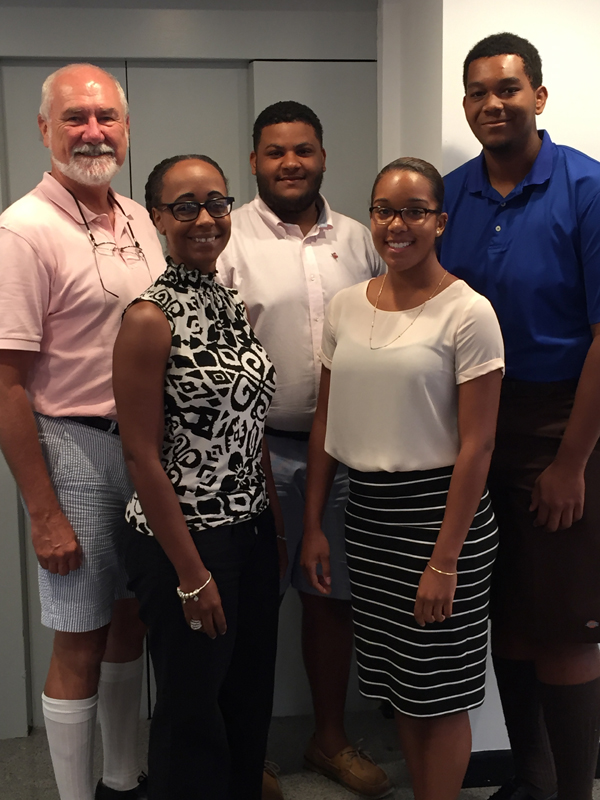 Francis Mussenden said, "In May I graduated from Warwick Academy, and in September I am heading to the University of the West of England, Bristol to study a BA [Hons] Architecture and Planning. I have had a passion for architecture since a very young age and have been involved with the Institute of Bermuda Architects [IBA] since early 2016.
"I am currently undergoing work experience with OBM International, which has been a fantastic learning opportunity before heading off to university. Working with the firm has given me a greater understanding of what it takes to be an architect; it is not just about putting walls together, but knowing the purpose and flow of a space.
"I am very excited for what awaits in the fall and even more excited to return to share what I have learned, and put my new found knowledge to good practice."
Tre Caines said, "I will be beginning my year 2 BA Architecture education at Central Saint Martins in London this fall and have been working for OBMI for the past two summers."
Chanika Jones said, "I currently attend the online school at the Academy of Art University located in San Francisco. I am in my senior year and am looking to graduate in May of 2018 with a Bachelors of Fine Arts in Interior Architecture. I am currently a student member of both the BSID and the IBA and look forward to what this industry has in store."
Kiarrah Rogers said, "I graduated this past June 2017 from the University of Guelph with a Bachelor of Landscape Architecture degree with distinction. I have worked with OBMI for the past 4 summers and have appreciated their support as a part of my professional and career development."

Read More About