[Written by Don Burgess]
Growing up on Governors Alley, Macai Simmons is a bona fide St. Georgian at heart.
You can see the pride on his face when he talks about playing for Blue and Blue at Cup Match. He has a pride that only beams brighter as he steps into his new role as captain of St. George's Cup Match team for the first time.
Simmons believes he has the right blend of youth and experience; the right blend of bowlers and batsmen; the tight blend of passion and patience to win the Cup.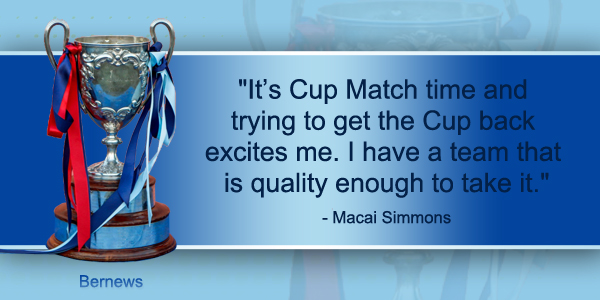 In other words, he believes St. George's has a well-balanced team that can pry loose the stranglehold Somerset has had on it these four past years.
He is "licking his lips" in anticipation of dealing with the pressure that is carried on the broad shoulders of the captain.
Simmons told Bernews "It's Cup Match time and trying to get the Cup back excites me. I have a team that is quality enough to take it. It gets my blood going that we're up against Somerset and we're the challengers. They have the Cup for now, and I'd love to have it — being the challengers motivates me."
His earliest memory of Bermuda's cricket classic is not the best if you support Blue and Blue. It was attending the match in Somerset with his granny and St. George's lost the Cup.
But he added: "Ever since I started playing cricket it was all about Cup Match. I was born and raised in St. George's and now that I'm the captain of St. George's it is only right that my team puts our best foot forward to win the Cup back."
Simmons enjoys how the game "brings different people in the community together who normally wouldn't go to a cricket game. It just brings everybody together no matter where you come from."
In their bid to win the Cup back, colt Nzari Paynter is one of four changes the club have made. Simmons said colt Paynter's 62 in the final trial "impressed" the selectors. "This is his stepping stone to help him elevate his game. What impressed us was his batting and mannerisms. He has a bright future."
Onias Bascome is one of three players who have been recalled and will serve as the vice captain for St. George's.
Simmons told Bernews that the pair has been playing cricket together since they were kids and because of that "we think along the same lines" so they have a similar sort of strategy of how to play the game."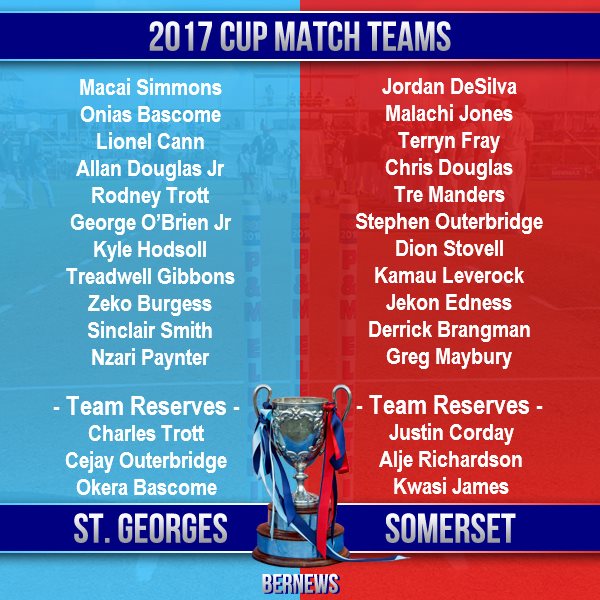 The team will also be relying on Cup Match legend Lionel Cann.
"I hope he gets the biggest ovation and the biggest success that he can get." Simmons enthused.
"He's a veteran. A lot of kids look up to him, and I used to love watching him bat when I was a kid. I hope he gets everything he deserves. I hope we bring the Cup home for St. George's so he can go off with a bang."
Besides those three, Simmons added that every player brings "something to the team. We complement each other, and that makes us a competitive team. Our team has all-around strength. There's not one department or the other that we're stronger in, but we do have more bowlers at hand this year."
The captain is eagerly awaiting the start of the match at Wellington Oval on Thursday morning. "I'm hungry. I'm licking my lips because I know what we're up against and the pressure is on us. The pressure is good because the pressure makes diamonds."

Read More About