According to the 2017 Q1 Quarterly Bulletin of Statistics, imports increased 12.0%, employment income increased 2.2%, and the Island hosted 36,752 air visitors during the first quarter of 2017, an increase of 14.0% year-over-year.
Imports
The report said, "Imports increased 12.0 per cent to $248.8 million. The value of imports rose for five of the nine commodity groups. The largest increase was recorded in the finished equipment commodity group which rose $12.9 million due partly to imports of vehicle parts and orthopedic appliances.
"Imports of machinery increased $11.1 million due mostly to higher imports of telephone equipment. Transport equipment rose $5.5 million with more cars and boats imported, while a rise in beverage imports contributed to a $3.1 million increase in the food, beverages and tobacco group.
"Imports from the all other countries category rose $11.9 million and reflected higher imports from nations competing in the America's Cup sailing event such as Japan, France and New Zealand. Imports from the United States of America [U.S.A.] rose $10.8 million while imports from the Caribbean increased $6.1 million. In contrast, imports from the United Kingdom [U.K.] slipped $0.4 million while imports from Canada declined $1.7 million.
Chart extracted from the report: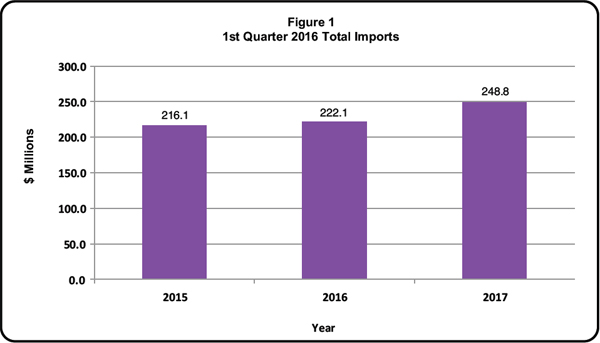 Employment Income by Industry
The report said, "Employment income increased 2.2 per cent or $20.1 million. The business services sector recorded the largest nominal increase in remuneration of $3.9 million due mostly to bonuses. The construction sector recorded a $2.8 million increase in employment income reflecting higher employee numbers, salaries and wages. In the "all other" category, which represents a combination of all other unspecified categories, growth in employment income of medical and health service workers was the largest contributing factor to the $7.1 million rise. Among other industries, a $3.0 million rise was recorded for the international business sector. The wholesale and retail sector and hotels and restaurants sector recorded increases of $2.2 million each.
Arrivals and Expenditure
"The Island hosted 36,752 air visitors during the first quarter of 2017, an increase of 14.0 per cent year-over-year. Estimated total expenditure by air visitors increased 21.7 per cent to $45.6million when compared to the same period of 2016. Visitors spent $6.0 million more on accommodationand food, while expenditure on shopping, entertainment and transport services was $2.1 million higher.
"A total of nine cruise ships visited the Island carrying 9,282 passengers. Total expenditure for these passengers was estimated at $1.0 million. In comparison, $0.4 million was spent by 3,314 cruise visitors during the same period in 2016.
Chart extracted from the report: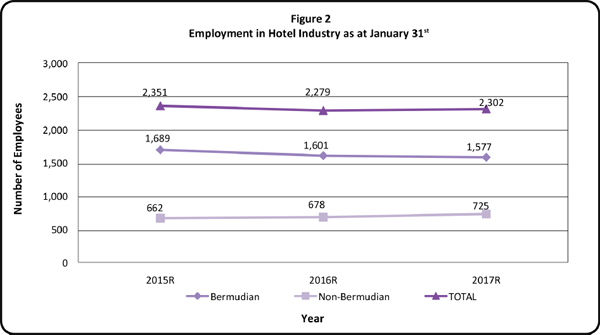 Hotel Accommodations
"At the end of January 2017, there were 2,302 workers employed within the hotel industry. The level of employment increased by 23 employees, representing 47 additional non-Bermudians and 24 less Bermudians.
"Hotel gross receipts totaled $44.6 million. This represented an increase of 20.7 per cent or $7.7 million. Of the total gain in receipts, $3.7 million was attributed to an increase in room sales."
The full Quarterly Bulletin of Statistics follows below [PDF here]:
Read More About