The World Alternative Investment Summit [WAIS] will be hosting their second annual WAIS conference at the Fairmont Southampton from October 11-14.
"James Tomey, Ray Mercer, Lamon Brewster, Chris Byrd, and Riddick Bowe are all attending," the announcement said.
"Former legendary MLB player and motivational speaker Darryl Strawberry keynote speech on his baseball career, life after baseball, and his faith.
"Former NBA star Charles Smith and current Executive Director of the National Basketball Retired Players Association is also scheduled to present at WAIS 2017. Highly acclaimed for his business insight, Smith often speaks to professional leaders on industry growth, financial disciplines and thought-provoking business solutions.
"Former NBA stars Earl "The Pearl" Munroe is also attending as are three special former professional athletes, to be announced shortly.
"The gathering of so many great former professional athletes in Bermuda is unprecedented. And even better, all attendees at this year's summit will be able to join these Hall of Fame athletes in the VIP Section at a Live Boxing event, held on Snorkel Beach on October 14th as part of one of the many opportunities to enjoy Bermuda and network with conference delegates.
"WAIS 2017 is bringing together alternative investments, high net worth investing and the world of sports. With Bermuda never before having hosted so many great athletes from such a variety of sports at one venue we expect this to be a premiere event," said Tony Sanfelice, President of Radius.
"With a compelling agenda and a number of planned social events, it provides all delegates with significant opportunities to network with some of industry's top professionals."
Other notable speakers include media personalities Jon Najarian from CNBC's Halftime Report, Mike Murphy from Fox Business. Ted Norton, former Alberta Minister of Energy and Finance will provide unique economic insights relevant to delegates as will Finn Poshmann, President and CEO of Atlantic Provinces Economic Council
Radius will donate part of the proceeds of the Live Boxing event, which is sponsored by the Bermuda Boxing Federation, to the Bermuda Family Centre.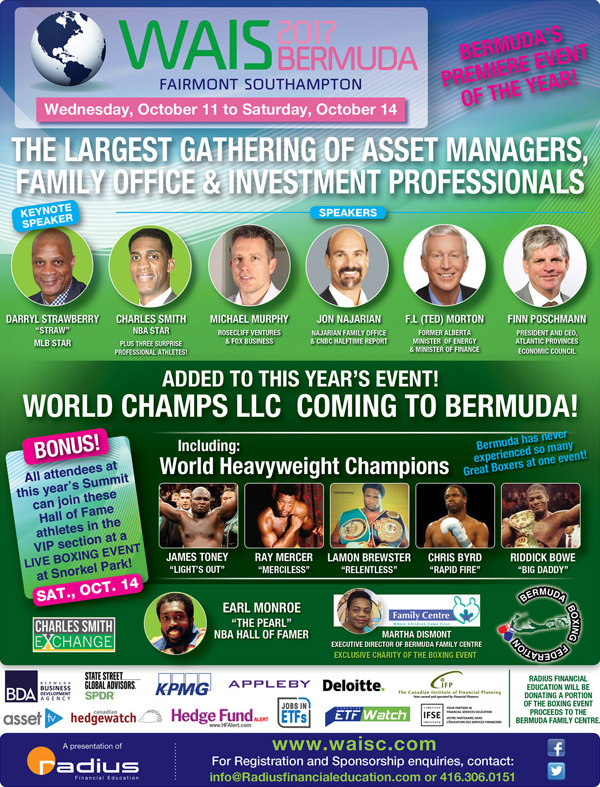 Read More About