James Thaddeus Griffiths – a Bermudian who piloted a ship through the St. George's Town Cut in 1917 – lies at rest in the Mohawk Cemetery in Utica, New York, recently drawing his great-grandchildren from Bermuda and abroad to visit his grave site.
A Times Telegraph story said "The grave marker bearing the names of James T. and Mae Griffiths looks much like many of the other markers in the Mohawk Cemetery, but it was special to the two people from Bermuda and one from Canada who came looking for it Friday afternoon.
"Glenn Tucker drove down from Toronto, Canada, to meet his brother, St. Clair "Brinky" Tucker, and their cousin, Elaine Fox, of Bermuda, at the train station in Utica. The three then traveled to Mohawk to find the grave of their great-grandfather. Irene Sweet, cemetery clerk, helped them locate the marker.
St. Clair "Brinky" Tucker and Elaine Fox of Bermuda, and Glenn Tucker of Toronto, at Mr. Griffiths' grave [Donna Thompson/Times Telegram]: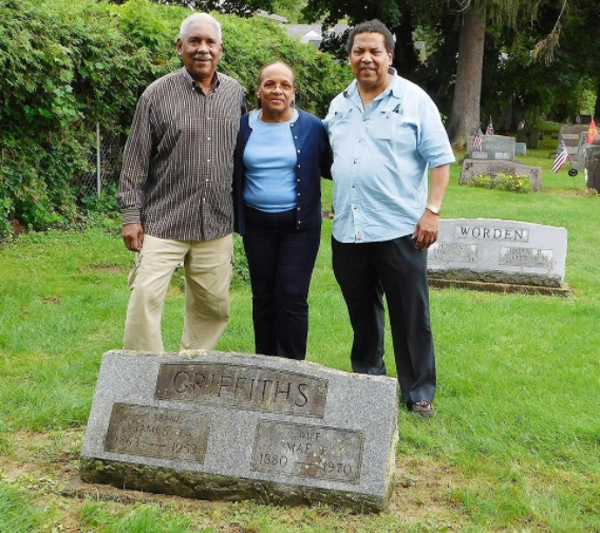 "James Thaddeus Griffiths was born in Bermuda in 1863. He was a celebrated ship pilot for many years and his career was recognized in January of this year when the Bermuda Pilot Gig Club hosted a celebration of the 100th anniversary of the opening of the St. George's Town Cut. Griffiths piloted the first ship through the channel in 1917.
"He was presented with a gold watch in recognition of occasion. The watch is inscribed as follows: "Presented by St Georgians as a mark of their appreciation to Pilot James T Griffiths for piloting the first vessel — SS Admiralen — through the Town Cut channel on Jan. 1, 1917."
"Griffiths began traveling back and forth to the United States after his retirement. Brinky Tucker has the watch. He said the family would like to hear from descendants of Griffiths' American wife who might recall stories about him."
Read More About
Category: All