[Written by Don Burgess]
Several Bermudians in Florida are dealing with no electricity issues, but are happy that was the worst they had to handle from Hurricane Irma.
Ki-Juan and Courtney Minors are dealing with no power by playing board games to pass the time. The couple lives in Wellington, which is 20 minutes west of West Palm Beach.
Kerrie Thomsen and her family lost power on Saturday night but are one of the lucky ones who already have it restored by FPL [Florida Power & Light Company].
Photos by Rinear Coulter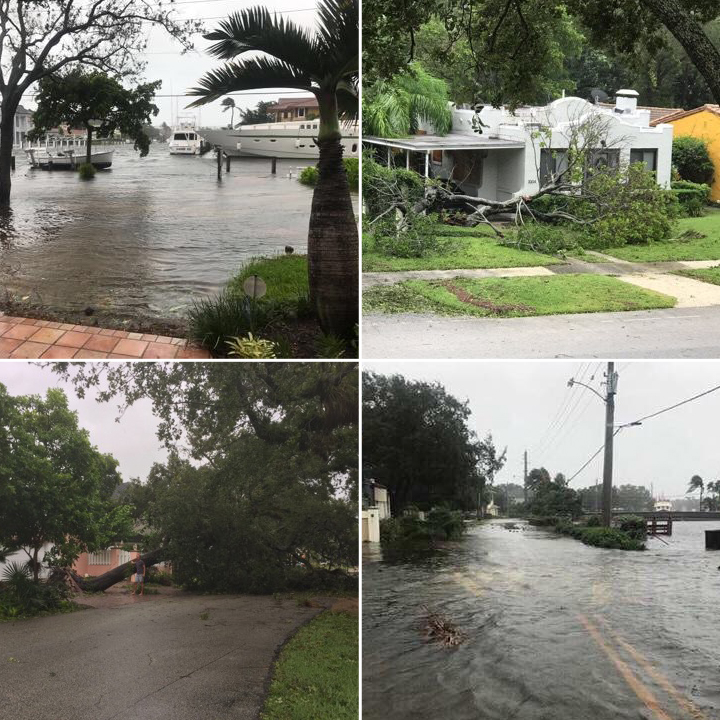 She said, "There was no major damage just some downed trees and debris."
Melissa DaPonte and friends originally planned to drive to Orlando but decided to continue to Tallahassee.
"We took in a family of eight who also fled from Miami. The house that we are staying in, the owners are friends of the girls I came up here with. They are on vacation and opened their home to us."
She added they lost power around 5 am on Monday. "We still have some tropical storm winds which are expected the rest of the day. A few of the tall pine trees snapped, but we are good."
She said her condo in Miami has been without power for two days now, and they don't plan on returning for another two days to avoid the heavy traffic heading back south.
Rinear Coulter said her family lost electricity around 2pm on Sunday, but had it back in the middle of the night.
"We have a ton of trees down in the neighbourhood. It doesn't seem like the downed trees did any damage to the houses, but they did do some to a few cars, but nothing major, which we thank our lucky stars for."
Her parents' condo is also fine, but a few sea walls have tumbled into the ocean. "It really, really could be worse."
They were looking after Beez Evans's boats, and there was no damage to them as well.
Katie Cornes is also without electricity and lost a few of the screens on her house. She told Bernews, "I feel very lucky; I feel very blessed."
Florida Governor gives update on Hurricane Irma:

Read More About