The launch of a local circus arts collective aimed at "fostering local talent and international collaboration" will see a series of workshops launch on September 22.
A spokesperson said, "Formed through a partnership between two local businesses, Kinetix – Natural Movement Ltd. and La Garza Bermuda, Cirqle is gearing up to offer new after school classes starting this fall, striving to bring cirque arts to the forefront of artistic expression and physical education to the island's youth.
"To celebrate this partnership and offer a glimpse of the international collaboration that is still to come, Cirqle is welcoming talented performer, Montana DeBor of Streetlight Circus for a three-day workshop teaching aerial silks, corde lisse aerial rope and juggling between the Kinetix Berkeley studio & the new Kinetix advanced aerial studio located on Union street from Sept 22-24. See below for further details."
Kállie Marcus of Kinetix, a company working to give Bermuda's youth access to yoga and aerial arts, said, "I believe it's vital that students are exposed to certified experts in the industry who are versed in how to perform this art safely.
"I'm now taking that a step further by bringing in professionals that are even more qualified than myself who we can all learn from.
"I quickly realized Montana Debor's goals and passions were similar to mine in what I was aiming to achieve with Kinetix. She not only teaches adults but has a passion for working with underprivileged kids, giving them circus arts training as a positive outlet for fun, exploration and a chance to release their inner child while forgetting about their daily stresses."
"In addition to classes in aerial silks and illusion performance, Cirqle is positioning themselves as an exciting new brand of local entertainment. Currently, they can be booked for aerial performances and mesmerizing illusory acts guaranteed to captivate audiences.
"However, In the months to come, they will be offering packaged traveling shows that feature mermaids, stilt walkers, acrobats and fire dancers that seek to encapsulate Bermuda's flora, fauna and cultural heritage in circus form."
Tara Cassidy, the creator of La Garza, a local business known for jewelry made from Bermuda's land, sand and sea, said, "When I was growing up, there was little to do and I found it all so painfully structured anyway. I wanted to express myself creatively but found I could only do that within a prescribed box.
"As a result, I've spent my adult life seeking out exciting forms of art and design, determined to make viable businesses from things I love to do.
"I've been obsessed with cirque for a while now but teaching is even more rewarding than I expected. I want to set an example for kids and adults alike, proving there is value in the arts and successful careers are more than possible."
"La Garza is currently designing and constructing costumes for their packaged shows by upcycling materials and utilizing complex fabrication techniques with meticulous attention to detail. "I intend to broaden the collective with other fabricators and teach costumery workshops as well. I want to see more people making their own carnival costumes and for costumery to become as standard as kite building is in our culture."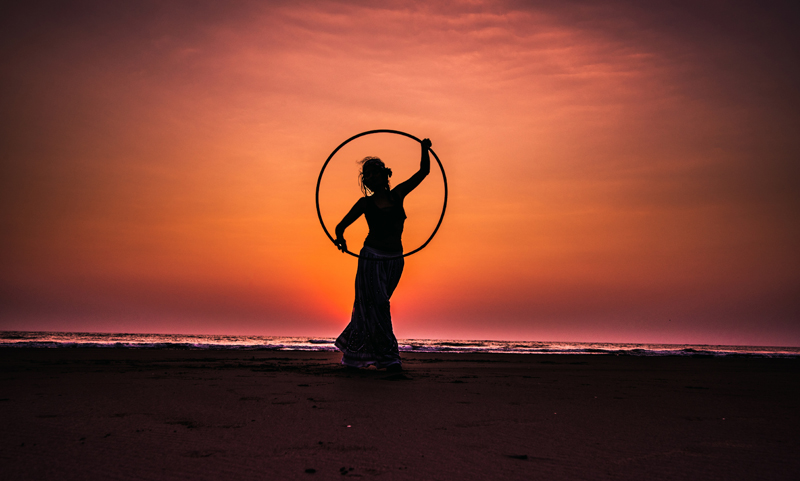 "Always wanted to run away with the circus? Cirqle is actively scouting artists, creators and performers of all ages, offering discounts and free training to individuals that show potential and drive in various forms of circus arts or behind the scenes development.
"Ahead of the 2018 tourism high season, they will be casting and intensively training new recruits for hire through cultural initiatives and private bookings. Check out their website to find out more about what it will mean to join the ranks.
"They are actively seeking social and financial investors to assist with the development of the project as a whole. We are an arts collective first and foremost. Our mission is a social one but we recognize for that to be truly sustainable, we have to maintain a viable business model.
"They are aiming to create full scale limited productions by 2019. The more community involvement and support we have, the more successful this project will be. Whether it's venue options, advance performance bookings, costume commissions, attending our workshops and classes or assisting us in scouting new talent, we welcome it."
Circus Arts Workshops with Montana DeBor can be booked at cirqlebda.com, with a bundle costing $200 and individual workshops costing $75; the workshops begin on September 22 from 6.00pm to 8.30pm.
Details about the workshops follow below:
Intro to Ropes & Silks
Aerial Silks, also called Fabric or Tissu, are one long piece of fabric attached in the middle to the ceiling to create two long tails. Participants will learn to climb, invert in the air, and hang upside down
Rope, also called Corde Lisse. Participants will learn to climb, invert, and move through poses to create sequences.
Juggling & Acrobatics
Participants will be taught the FUNdamentals of juggling such as the basic cascade pattern, reverse cascade, under throws, columns and many more skills!
Acrobatics [all levels] students will learn the foundations of acro. Specially created for new & experienced students, you will condition, stretch, and learn the basics of handstands and tumbling, including forward and backward rolls, cartwheels, and round-offs.
Ropes & Silks
A short review of the intro workshop will be covered here. Students Will focus more on technique & short sequencing.
Everything & Choreography
"Participants have the opportunity to bring their new aerial, acrobatic & juggling skills to this workshop and collectively or individually they will be guided to create their own style through exercises that will help them to use skills/sequences that they have learned in the previous workshops and to alter their qualities and order."
For more information, visit the website.
Read More About
Category: All, Entertainment, News