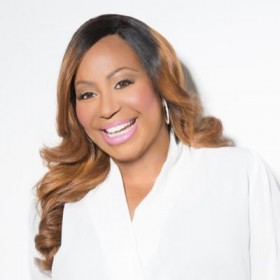 [Written by Don Burgess]
Is your potential maximized? Are you surrounded by negativity?
Dr. Cindy Trimm is back in Bermuda to help people live better lives.
Dr. Trimm, along with Pastor Russell Tomlinson, will be speaking at Presence Intensive at the Fairmont Southampton at 7.00pm on Friday through Sunday.
She told Bernews that she has been in ministry since she was 18.
"It was something I felt I was called to do and that was to help make this world a better place. I was already fully engaged in helping our community, but this provided another platform for me to…provide empowerment in building initiatives for people to discover purpose and maximizing their own personal potential."
She started Dr. Cindy Trimm Ministries 40 years ago to create an institution that "could house the intellectual properties and house an incredible staff that would perpetuate the vision that I had for making this world a better place."
She said the Ministry adds legitimacy to her call. Being based in Atlanta, Dr. Trimm added that is the perfect logistical place in the United States to be able to reach out to America and the rest of the globe.
Her talks this weekend will focus on empowerment and help ordinary people to do extraordinary things in their lives using Biblical principles to do it.
Dr. Trimm added that start by "discovering your why."
"As an individual, you need to maximize your potential. We're going to talk about how to get to the next level in your life and how to walk away from negative environments and negative people.
"We're going to talk about how to maintain a state of positivity and peace within your own personal life so you can be centered to not only discover your why but also to connect with your greatest aspirations."
She said building networks is critical as it helps move people from "I" to "We" to help make not only Bermuda a better place, but the world a better place.
Dr. Trimm said "People want to be happy. They are happy when they are contributing to a country's progress and that their voice really matters."
Long-known for her helping give women the tools to succeed, Dr. Trimm added: "When we focus on empowering women, we are empowering a nation."
She said, "I am glad to be able to come home and be able to make my contribution to my beloved island over the next weekend."

Read More About