The Greenwich Police in the UK have released a public appeal to "locate missing Trounsell Thompson-Ming," who they said was a "visitor from Bermuda," who was last seen at the Notting Hill Carnival on August 28th.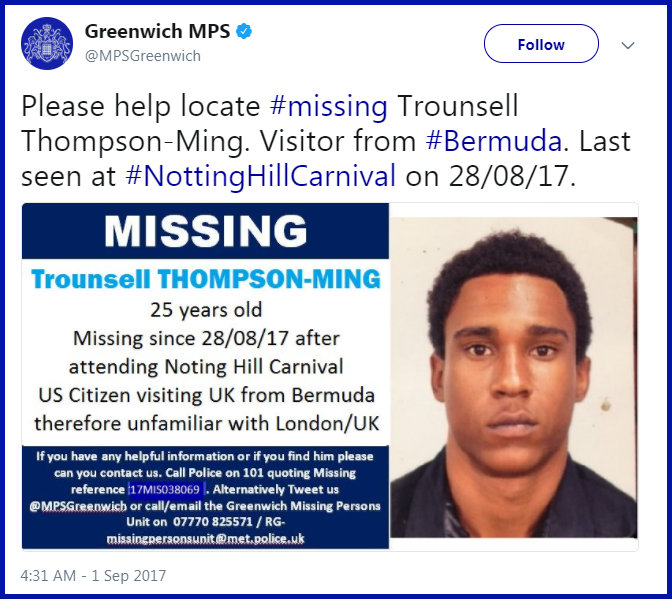 The tweet, which was posted on the verified Greenwich MPS account, said, "Please help locate missing Trounsell Thompson-Ming. Visitor from Bermuda. Last seen at Notting Hill Carnival on 28/08/17.
Attached to the tweet was a poster which stated, "Missing Trounsell Thompson-Ming, 25-years-old, Missing since 28/08/17 after attending Noting Hill Carnival. US Citizen visiting UK from Bermuda therefore unfamiliar with London/UK.
"If you have any helpful information or if you find him please can you contact us. Call police on 101 quoting Missing reference 17MIS038069. Alternatively Tweet us @MPSGreenwich or call/email the Greenwich Missing Persons Unit on 07770 825571/ RG- missingpersonsunit@met.police.uk"
In response to queries about the appeal posted by the Greenwich police, a Bermuda police spokesperson said, "The BPS is liaising with the UK authorities and if anyone locally has any information they can pass it on the BPS and or directly to the relevant UK authorities."
Read More About