The new Head at Saltus Grammar School has an ambitious agenda for her first term, which includes implementing a strategic planning process to guide the school's priorities for the coming years.
Deryn Lavell, whose 38-year career in education in Canada and the UAE, included the Headship of the prestigious Bishop Strachan School in Toronto, arrived last month at Saltus and has already immersed herself in the community
"I'm new to Bermuda," she said, "and having had some experience as a 'transplant' when I worked in Abu Dhabi, I understand that it's vitally important to take time to get to know the community, its people, its unique culture and history, and to not make assumptions.
"I am a learner at heart, so I'm eager to explore and discover. So far, I can't get over how warm and welcoming everyone has been."
As for her priorities in the first weeks at Saltus, Ms Lavell is planning to get a process underway to understand the school's needs.
Audio of Deryn Lavell interview:
"I plan to do more listening than talking. I want to know what's important to the Saltus community and get a sense of what they believe should be our priorities. That includes students as well as faculty, staff and parents. I want to hear from all perspectives."
Ms Lavell has a reputation for being an accessible and highly visible Head. Among other things, she'll be hosting get-togethers for parents to drop by in a casual setting to talk about what's on their minds, as well as conducting individual meetings for staff.
Ms Lavell added: "Most important to me though, are the students. Not just seeing them in their assemblies, but being among them in their extra-curricular activities, in their classes and their student leadership teams. I will be asking students what they think about what is working well and what they think could be improved."
The Board of Governors has asked Ms Lavell to begin work on a new strategic plan for the school as a top priority.
"Saltus is in a position of strength – just look at the exam results and university acceptances for evidence of that," added Ms Lavell. "So it is a perfect time for us to take a moment and look to the future."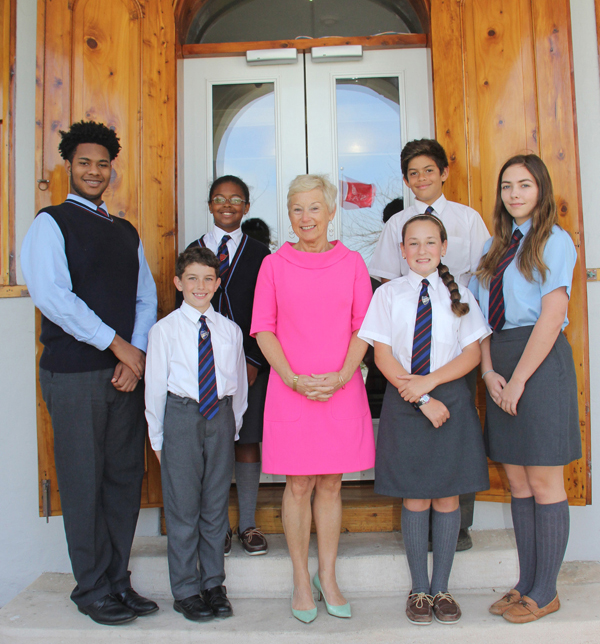 As Ms Lavell sees it, the needs of students change rapidly to keep up with the world we live in. A school cannot rest on what worked in the past, but must always anticipate the future, she said.
"We know the demand for skills in the STEM areas [science, technology, engineer and math], as well as sophisticated problem-solving capabilities, creativity and innovation, will continue to spiral," she says.
"How do we best prepare our students with the relevant skills, academic strength and confidence in their own abilities? These are the questions we have to be asking all the time."
According to Ms Lavell, the way to get these conversations going is to ask what might be the 'big disruptors' that can affect education generally. She believes that one starts with big picture thinking as the context for understanding the specific opportunities and challenges at Saltus.
"We do not want to be the best of the dinosaurs," she says with a laugh. "I love this observation borrowed from the corporate sector. A school must always have its eyes fixed on the future."

Read More About