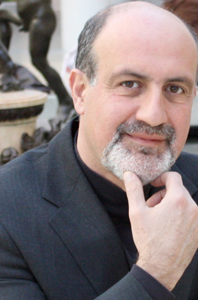 Over 250 life and annuity professionals from all over the world descended on Bermuda for the fourth-annual Bermuda International Life and Annuity Conference, hosted by the Bermuda International Long Term Insurers and Reinsurers [BILTIR].
The event was held at The Fairmont Southampton and began with a reception at the Royal Bermuda Yacht Club, which saw guests and speakers mingling.
Premier David Burt gave a welcome address to the industry, saying that the Bermuda Government expects to see continued growth of the life and annuity industry and that the Government is doing all it can to ensure the growth becomes a reality because it will provide both direct and indirect job opportunities for Bermudians.
The attendees came to the event from five different countries, with 130 hotel nights booked at The Fairmont Southampton.
During the conference, attendees heard from key-note speaker, and best-selling author, Nassim Nicholas Taleb [pictured], who discussed why long-term insurers have a much better track record than their finance industry counterparts in managing, structuring, and distributing risks.
Taleb is the author of critically acclaimed The Black Swan: The Impact of the Highly Improbable, which spent 36 weeks on The New York Times' Bestseller List and has sold nearly three million copies since its release.
Other panels include one on the changing standards in accounting – presented by William Hines, Principal and Consulting Actuary of Milliman; Sean Kelley, Senior Manage at PwC and moderated by Stewart Richie, Director in Insurance & Reinsurance at PwC.
This panel discussed the impending changes at the IFRS and US GAAP and examined the significant impacts to the long-term industry.
Conference attendees were also brought up to speed on the latest industry technology in a panel on the rise of innovation and InsurTechs. This was discussed by Chris Jones, Partner at Blake, Cassels & Graydon LLP; Dustin Yoder, CEO of Sureify and chaired by Chris Murumets, CEO of LOGiQ3 Group.
Scott Selkirk, chair of BILTIR's Strategy Committee and a primary organizer of the event, said: "We are pleased that the event was such an enormous success. We want to say thank you to all of those who attended and participated in the conference.In particular, we are very grateful to our sponsors, without whom the event would not have been possible."
The conference was sponsored by Athene Life Re Ltd., Marsh, LOGiQ3 Group, Aon Insurance Managers, EY and PwC Bermuda. Additional support was given by Bermuda Business Development Agency, KPMG, Society of Actuaries, Willis Towers Watson, Andover Research Ltd., Conyers Dill & Pearman and Expertise.
BILTIR was created in 2011 to serve as a formal association to represent life insurers and reinsurers in Bermuda. The organisation's primary focus is to advocate for the island's life and annuity industry.
BILTIR members manage more than $196 billion in assets and insure a wide range of risk types across a broad geographic range, proving that they play an important role in the global economy.
Read More About