Imagine Bermuda is inviting the community to join in the observance of United Nation's International Peace Day on Thursday, September 21st. The theme for the day is "Together for Peace: Respect, Safety & Dignity for All".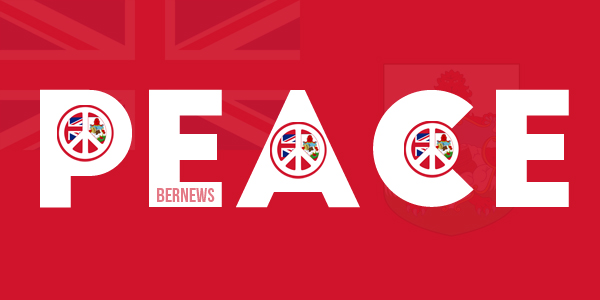 A spokesperson said, "This Day has added significance since 2017 has proved to be an especially challenging period, reminiscent of the Cold War era.
"The Security Council has been meeting almost weekly on the fractious conflict on the Korean Peninsula. In addition, violent conflicts in a number of countries have created unprecedented numbers – millions – of migrants seeking 'safe harbours'.
"The United Nations is inviting Global Citizens to join at noon on Thursday, to 'Pause' for one minute and reflect on this theme.
"People are encouraged to hold in mind those vulnerable families – especially the children – facing international challenges – think globally. However, this is also a time to consider what each of us might do, in order to act locally.
"In Bermuda, we have experienced our share of polarization and the outcome that flows from same. We also face the reality of having had more than a decade of murders of young men, caught up in a cycle of violence. In addition we have those 'barriers' that result in too many young people being fearful of travelling to various parts of our tiny Island – a form of apartheid.
"All of us are being invited to offer any assistance to nurture the network within our community with the goal of restoring those families that have been impacted by the cycle of violence.
"We are supporting the initiative of the Bermuda National Gallery in observing 'Peace Day' by offering the free exhibition of Picasso's Peace Dove over the next few days.
"To paraphrase the U.N. Secretary General: 'Peace Day' is an opportunity to remind ourselves –across our Island and across the Globe – of our common humanity.
"Those looking for a special space for their "Pause" in Hamilton are welcomed to use one of the Corporation's Parks, or Hamilton Seventh Day Adventist Church – anytime between 11.45 and 12.15 pm on Thursday."
Read More About