On the September 11 at 9.46am, Saltus Grammar School remembered those who perished in the terrorist attacks on the World Trade Center, including Saltus alumni Boyd A. Gatton [1962-2001] and Robert D. W. Higley II [1971-2001], as well as Bermudian Rhondelle Tankard.
A spokesperson said, "Bermudian Boyd A. Gatton [38 at the time] was working on the 97th floor. Boyd was employed by the Fiduciary Trust Company as the Operations Manager. According to an article published by The New York Times in December of 2001, "He spent his free time practicing tai chi in the park near his home in Jersey City, doing carpentry work, reading and indulging his nieces when they visited from Bermuda with his two sisters."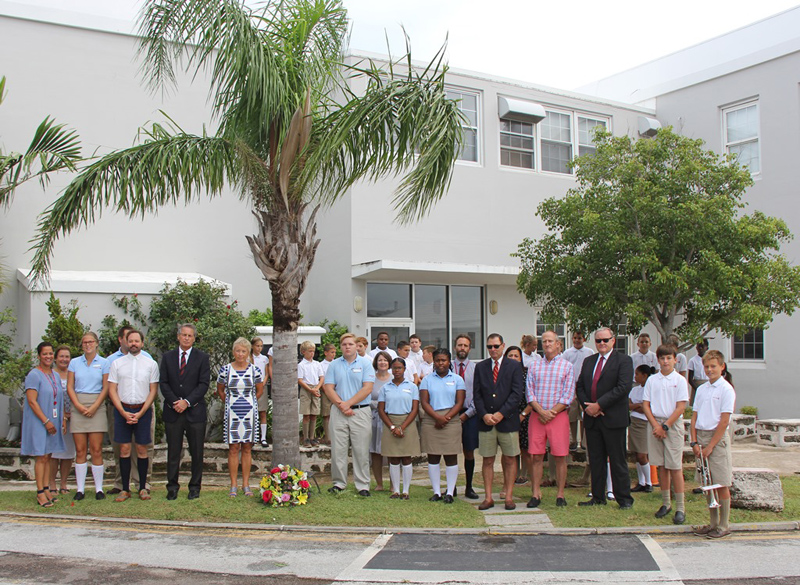 "American Robert D. W. Higley II [29 at the time] was on the 92nd floor of the South Tower that day. He was employed by Aon Risk Management Services having joined the firm just three months prior in June. He was survived by his wife Vycki, daughter Amanda and another daughter, Robyn, born two months after Robert perished.
"Rhondelle Tankard was 31 at the time and according to The Royal Gazette, "[Rhondelle] had only started working at the World Trade Center the day before the terrorist attacks. Before arriving in New York, she had been working for the Aon insurance company in Bermuda.
"She had shown ambition and talent which led to her being offered the opportunity to further her career by undertaking a two-month secondment at the firm's offices in New York."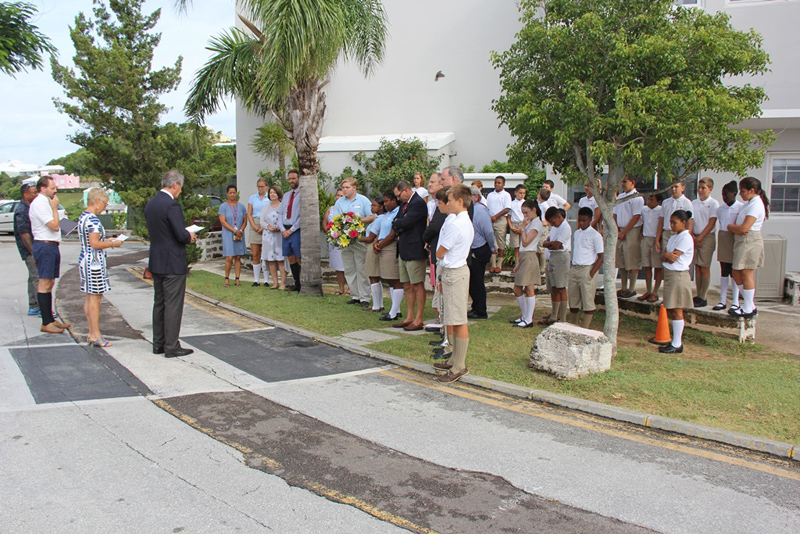 "This ceremony took place by the memorial tree in front of the Saltus Secondary Department's Dudley G. Butterfield Library Research Centre. SGY Head Prefects placed a wreath by the memorial plaques. Rev. Jonathan Connell said a prayer and called for a minute of silence.
"Head of School Deryn Lavell and Deputy Head [Advancement] Jon Beard spoke. S10 student Alexander 'Zander' Miller played "Taps". Also in attendance were alumni Mark Orchard, Mike Bishop and Jay Correia who knew Boyd.
Deputy Head [Advancement], Jon Beard, who taught Boyd, said, "The terrorist attack on Sept 11th of 2001 claimed the lives of 2,606 people, among that number were Bermudians Rhondelle Tankard, Boyd Gatton and American Robert Higley. Here today we think of all of these three and remember particularly our alums Boyd and Robert.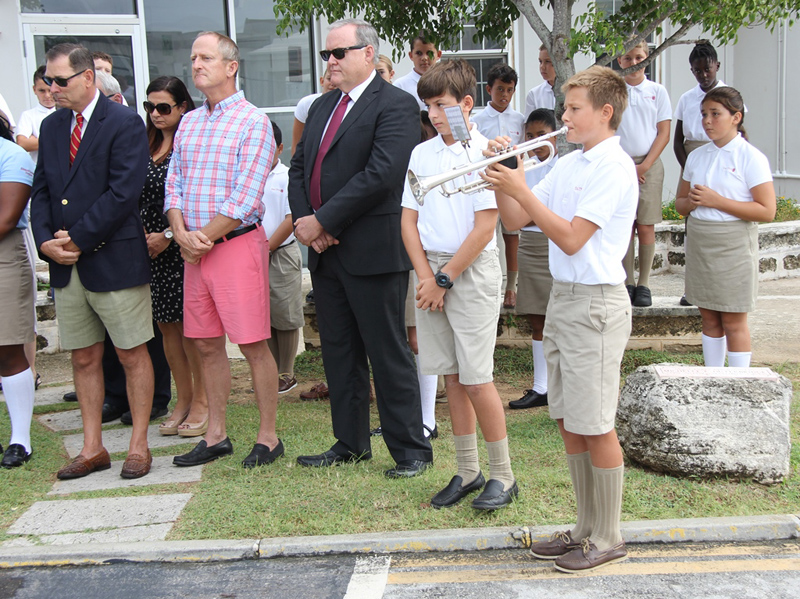 "All three were working above the impact area of the South Tower. We know that in Robert's case he got two of his five trainees out down the emergency stairwell and turned back to get the other three.
Alum Sean Moran was working close by and an excerpt of his account is a sobering look at what happened that day. He said, ""On every September 11th since 2001, I wake up with a heavy feeling in the pit of my stomach, and I spend some time reflecting on that day in New York….Coming into the office that morning, excited to tell my co-workers about the Michael Jackson concert I'd seen the night before.
"The 'boom' of the first plane hitting the North Tower while I was on a call at my desk, then turning around to see the black smoke coming from the building….The sight of the second plane appearing in my peripheral vision as I stood looking out my window; seeing it disappear behind another building for a second, then reappearing and flying directly into the South Tower; witnessing the explosion on impact and seeing fire and debris flying out the other side of the building.
"The awful feeling of realization that this was not an accident but a terrorist attack….The horror as I watched the first tower collapse, hearing the rumble and feeling the ground quake as it happened…. Evacuating the building, only to be sent back inside because the smoke at street level was so thick you couldn't see or breathe….The disbelief as I watched and felt the second tower fall, and the numbness that followed.
"Knowing that thousands of people had died in those buildings as I watched, not to mention those who were killed on the ground around them and on the planes….The many, many posters of missing people plastered on the outside walls of St. Vincent's Hospital, and the crowds of people waiting there for news of loved ones…putting faces to the unthinkable losses felt by so many families."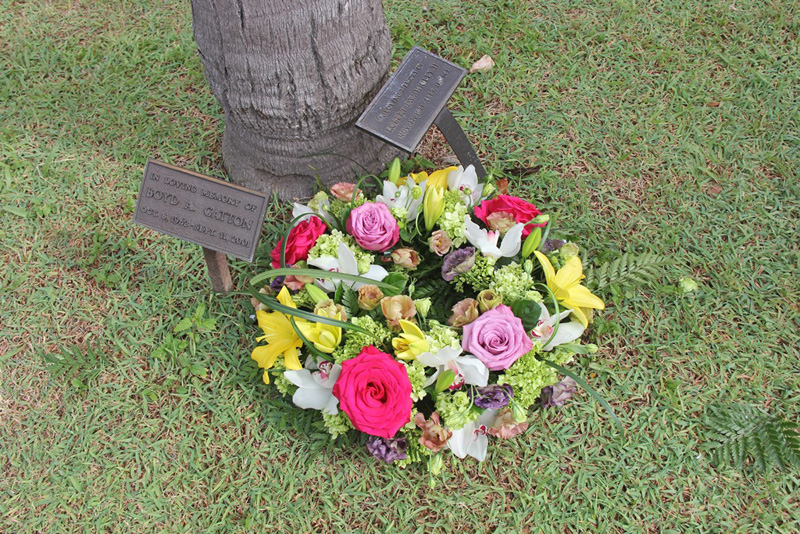 "We remember Rhondelle, Boyd and Robert – three people simply getting on with their lives, enjoying their families and friends – and working in an exciting environment until a group of terrorists changed that forever — so we also remember all of those people whose lives have been taken in a similar way – and pray for them and their families."
New Head of School at Saltus, Deryn Lavell, said, "Why did these people have to die that day? How could something so unimaginable, so vicious and so pointless have happened in our world?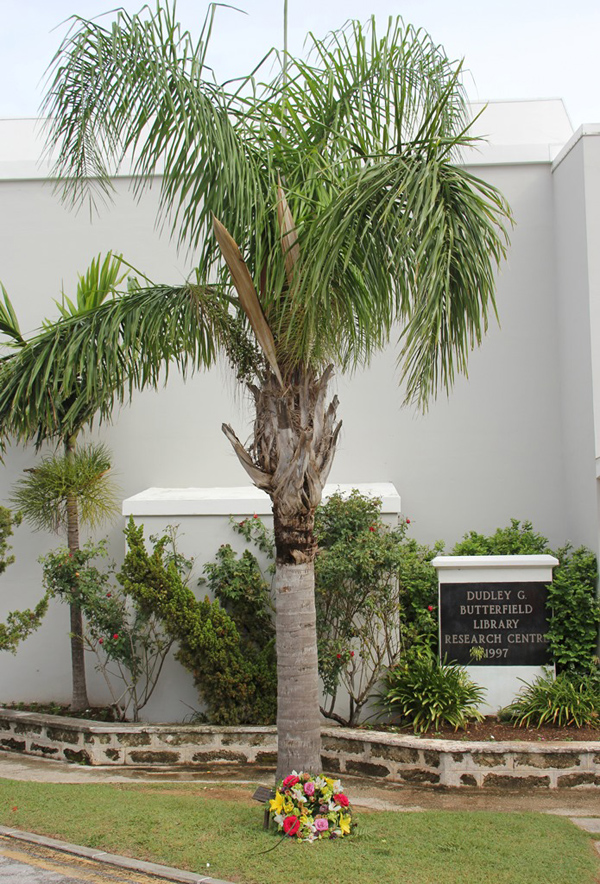 "Still, I believe that the human spirit endures and that the lowest of lows can be met and defeated by the strength of our better natures. I believe that Rhondelle, Boyd and Robert, and all those who perished on that day, would want our children to learn from this heartless act of hatred and violence.
"They would want them to understand the value of peace, the importance of love, and the power of mutual respect. They would not look to vengeance and more violence as the answer. They would want us to forgive and to open our hearts to those whose beliefs, cultures and world views, may be different from our own.
"To break down the barriers that divide us, by seeking ground that connects us as human beings."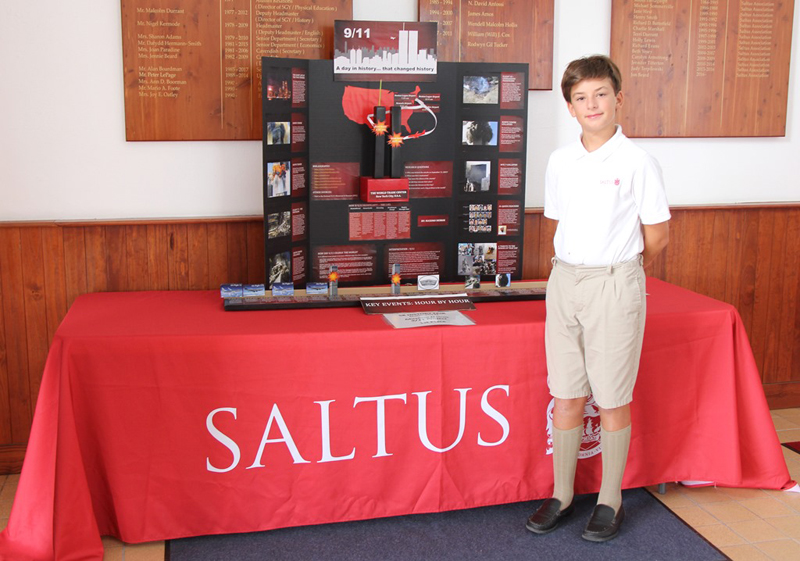 "The kind of blind hatred that fuels these horrible acts can only lead to destruction. We can be better than that. We must be better than that. Every day, in countless ways, we can practice love and tolerance. The more we do, the easier it becomes."
"At the Saltus Year 8 History Fair last June, Maximo Deiros [now in S9] won First Prize for his excellent project on 9/11. Maximo had been moved by a visit to the 9/11 memorial in New York several years ago. This project is on display in the foyer by Reception."

Read More About