The Bermuda Hospitals Board [BHB] is taking the lead in helping its staff attain better health by cutting all drinks with high sugar content from its staff cafeterias.
BHB's Hotel Services Department has been phasing out its beverage offerings that contain more than 15 grams of sugar per serving.
"This policy change will result in the elimination of all sodas [except diet], all fruit and all energy drinks that contain high-fructose in excess of the 15 grams per serving limit we have instituted," said BHB Chief Operating Officer Scott Pearman. "
Waters and drinks that contain less than 15g sugar will remain in stock," he added.
BHB Director Hotel Services Jerome Swainson, BHB Chief Operating Officer Scott Pearman and BHB Food Service Supervisor Andrea Dill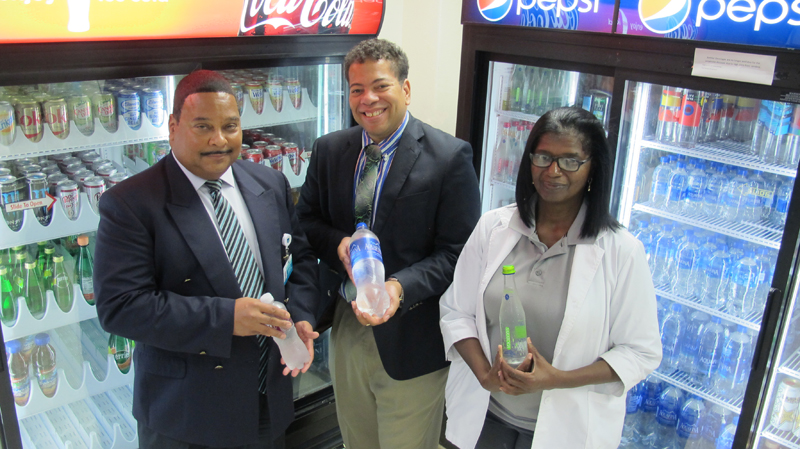 Mr Pearman noted that contrary to the national trend of lower health insurance premium increases, the health insurance premiums for BHB's employee plan rose 18 percent this year. This increase was not due to inflationary policies by Government or insurance companies.
"The increase was a direct result of actual hospital and major medical claims by our staff exceeding the claims of peer populations by 30 percent," he said. Chronic diseases were the primary driver of these claims.
BHB's Dietary Department revealed that the top five beverages sold in staff cafeterias at King Edward Memorial Hospital [KEMH] and the Mid-Atlantic Wellness Institute [MWI] from 1 April 2016 until 30 September 2017 contained a total of 3,070,778 grams of sugar.
"At BHB we have consumed 3.16 tons of sugar or an average of 3.5 pounds of sugar per staff member over the past 18 months," said Mr Pearman. "Although our cafeterias serve members of the public as well, the sugar consumption calculation includes only our top five brands so total consumption is actually understated"
Most of the offending drinks are no longer available in the hospitals' cafeterias.
"By November first we will not have any overly sugary beverages available in our KEMH staff cafeteria or vending machines," said BHB Director of Hotel Service Jerome Swainson. "By Christmas the same will be true at the Mid-Atlantic Wellness Institute," he added.
"Research shows that chronic diseases including cardiovascular disease, diabetes and hypertension can be significantly reduced by lifestyle choices," said BHB Endocrinologist Dr Annabel Fountain. "Through this policy, BHB is creating an environment that supports and promotes healthier choices which will reduce the risk of developing these conditions," she added.
"Staff are rightfully disgruntled when health insurance premiums increase substantially like they did last year, but the rise was driven by expenditures for chronic disease related to our care," said Mr Pearman.
"Removing beverages with greater than 15 grams of sugar will increase staff awareness of the dangers related to high sugar diets. It will also make it easier for us to make better choices. It's our hope this will result in a healthier workforce and keep health insurance rates at reasonable levels," he added.
Mr Pearman continued: "Our cafeterias are convenient and popular dining destinations for many of our 1750 staff. Most importantly we believe that eliminating unhealthy options will help us on the road to better health and wellness."
Debbie Jones, Chairman Bermuda Diabetes Association has endorsed the move taken at BHB. She said: "The hospital is taking the first step in helping to make BHB employees healthy. By ensuring that sugary drinks contain no more than 15 grams is supporting the message that people should be choosing water first. Water contains no grams of sugar. Hopefully every employer in Bermuda will follow the hospital's lead."
Minister of Health Kim Wilson also threw her support behind BHB's efforts. She said: "I have long been concerned about the high sugar content in what we consume. The Throne Speech committed to Government leading the way in wellness by encouraging its employees to make healthy choices.
"BHB employees see far more clearly than the rest of us the negative health outcomes from obesity and diabetes so I'm delighted that our largest healthcare provider is leading by example. We, in Government, have promoted water only practices and policies in schools through the Healthy Schools Programme, and we are looking to re-introduce the Vending Machine Policy for Government premises, in order to improve healthy options.
"I urge others to choose water as the first option. A concerted effort by the whole community to reduce our population's intake of sugar will not only make us healthier, it will also reduce the cost of healthcare premiums."

Read More About