The Bermuda Olympic Association [BOA] announced that Branwen Smith-King has joined the organisation as its Program Coordinator, with responsibility for overseeing the BOA's participation in the Olympic Solidarity [OS] and Pan American Sports Organisation [PASO] programs.
In this role, she will further develop the BOA's relationship with the national sports governing bodies [NSGBs] in Bermuda, and advise and coordinate with the NSGBs on matters related to OS and PASO, which fund programs for the development and participation of local athletes in international festivals.
Mrs. Smith-King is an experienced collegiate athletic administrator, instructor and head coach with over 30 years of demonstrated leadership success. She recently returned to Bermuda and is the Executive Director of the Bermuda Sloop Foundation.
She previously held positions with Tufts University in Medford, Massachusetts, including the posts of Assistant Director of Athletics, Physical Education Director, and Head Coach of the Women's Cross-Country and Track and Field teams.
BOA President Judy Simons, Secretary-General Stanley Douglas, Branwen Smith-King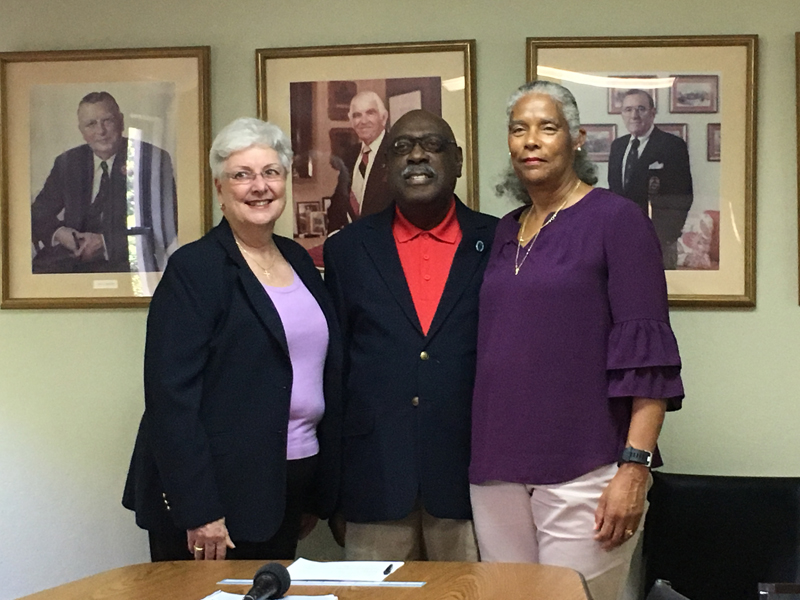 Mrs. Smith-King was a member of the Bermuda National Track & Field junior and senior teams from 1971 to 1979, and won gold for Bermuda at the 1971 CARIFTA Games.
She also served as Manager/Coach of the Bermuda National Track Team at the 2011 Pan Am Games in Rio, team Trainer for the 1996 Atlanta Olympics, and Manager/Trainer at the 1983 Pan Am Games in Puerto Rico.
Mrs. Smith-King holds Bachelor of Science and Master of Education degrees in Physical Education from Springfield College.
Judy Simons, BOA President, said, "It is my pleasure to welcome Branwen to the BOA team as our new Program Coordinator.
"With her background in Athletics—as a competitor, coach and administrator—she is the right person to help us continue to strengthen our relationships with the NSGBs and ensure we're giving Bermuda's young athletes every opportunity to progress and compete internationally. We're glad to have her on board."
Mrs. Smith-King expressed her enthusiasm at joining the BOA to assist the next generation of athletes, and explained her love of sport this way: "To me, athletics represents the beauty of humankind. It doesn't matter what language you speak, what colour your skin is, or what country you're from.
"Differences in who we are don't matter when the starting gun goes off or the game begins. I experienced this first hand as an athlete, coach and administrator. I loved every minute of the competitive environment and personal growth that sport can provide."

Read More About