The Bermuda Underwater Exploration Institute [BUEI] is getting set to screen two films, Lady Macbeth, on Wednesday, October 18 at 7.30pm and The Only Living Boy in New York on Sunday, October 15 at 5.15pm in the Tradewinds Auditorium at BUEI.
Trailer for Lady Macbeth:
The event poster says, "Rural England, 1865. Katherine [Florence Pugh] is stifled by her loveless marriage to a bitter man twice her age, and his cold, unforgiving family.
"When she embarks on a passionate affair with a young worker on her husband's estate, a force is unleashed inside her so powerful that she will stop at nothing to get what she wants."
Trailer for The Only Living Boy in New York:
In describing the Only Living Boy In New York, the poster says, "After graduating from college and moving into an apartment, young Thomas Webb befriends an alcoholic neighbor who dispenses worldly wisdom alongside shots of whiskey.
"Webb's world soon comes crashing down when he learns that his father is having an affair with a beautiful and seductive woman."
Tickets cost $15 for adults and $10 for students, and are available by calling 294-0204 or visiting BUEI's Oceans Gift Shop.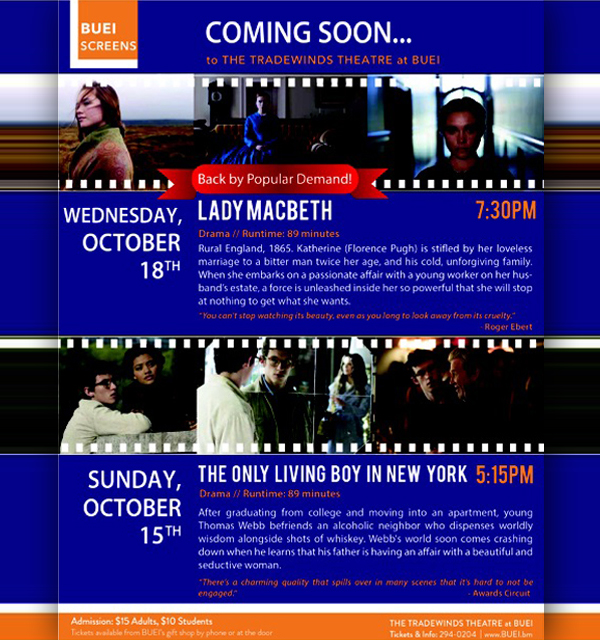 Read More About
Category: All, Entertainment, Films/Movies