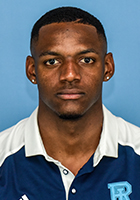 Bermuda's Chae Brangman scored for Rhode Island in the 33rd minute as they recorded a 2-1 loss against Massachusetts.
Brangman plays for the University of Rhode Island, and the school's match report said, "Rhode Island suffered its first loss since Sept. 2, falling to Massachusetts 2-1 in overtime Tuesday afternoon in Amherst.
"Chae Brangman put the Rams up 1-0 in the 33rd minute, off an assist by Dominik Richter, and the Rams took the advantage into halftime.
"Just seven minutes after the break however, UMass evened the score on a goal by Jack Fulton. The Rams outshot the Minutemen 9-6 in the second half, but were unable to find the back of the net before the end of regulation.
"URI then went to overtime for its third Atlantic 10 game in a row, but was unable to escape unharmed as a 95th minute blast from Kevin Boino gave UMass the 2-1 victory and snapped Rhody's unbeaten streak at 10 games.
"The win improved Massachusetts to 10-2-3 overall and 4-0-1 in the Atlantic 10 while Rhody dropped to 8-3-3 [3-1-1 A-10].
"After four straight road games, the Rams return to the URI Soccer Complex to host Fordham, Saturday night at 7 p.m."
Junior Chae Brangman's first-half goal was his team-leading seventh of the season.

Read More About