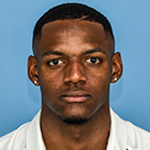 Bermuda's Chae Brangman scored for Rhode Island in the 60th minute as they recorded a 2-1 victory against George Washington, with Brangman marking his second game-winning goal of the week, and fourth of the season.
Brangman plays for the University of Rhode Island, and the school's match report said, "After a scoreless first half, Rhode Island [5-2-2, 1-0-0 A-10] found the back of the net twice within a 10-minute span early in the second half.
"Dominik Richter struck first, putting URI on the board with a shot that beat George Washington's Thor Arne Hofs at the right post. Ludvik Bencopicked up an assist on the play as he chipped the ball over GW's back line and found Richter for the 50th-minute tally.
"Chae Brangman doubled the Rams' lead at the 59:48 mark when he buried his team-leading fifth-goal of the season off assists from Liam Daley and Peder Kristiansen.
"George Washington [3-5-2, 0-1-0 A-10] cut it in half with less than 10 minutes remaining in regulation – on a goal by Oscar Haynes Brown – but that was as close as the Colonials would get.
"Junior Chae Brangman registered his second game-winning goal of the week, and fourth of the season. He now leads the team with 11 points on five goals and one assist."

Read More About