Three more local businesses –  Fun Golf, Lili Bermuda, and Tobacco Bay/Beach Boys — have successfully demonstrated full adherence to Bermuda's new National Service Standards, joining seven other businesses officially certified in the National Service Standards Programme.
"This certification was created by the local industry for the local industry for the sector," said Karla Lacey, Chief Operating Officer, who holds responsibility for the programme. 'It's reflective of best practices in the industry globally and something all recipients are proud to have earned."
Belcario Thomas – Tobacco Bay, Rasheeda Burgess – Bermuda Tourism Authority Tourism Standards and Training Manager, Dennie O'Connor – Tobacco Bay, Marie-France Thompson – Lili Bermuda, Raymond Walker – Tobacco Bay, Karla Lacey – Bermuda Tourism Authory Chief Operations Officer. Not pictured: Fun Golf Bermuda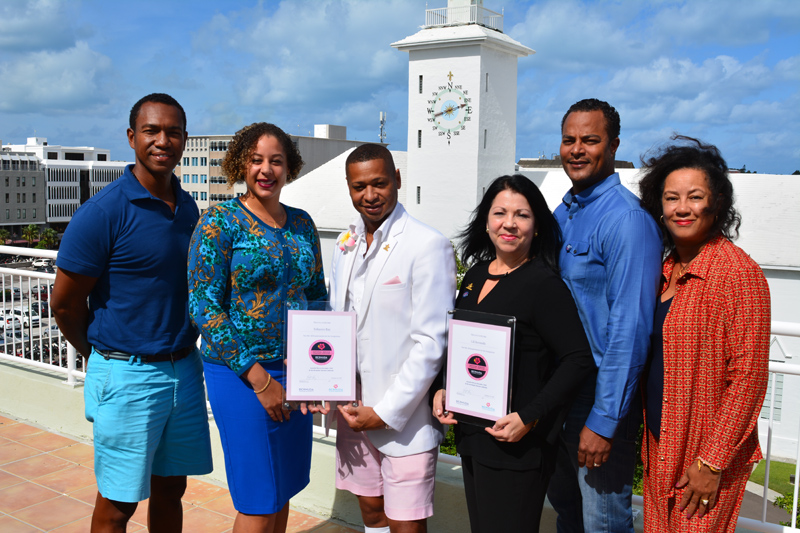 The BTA said, "Going forward each of the three businesses will be marked on the gotobermuda.com website with a star, making their certification clear to site visitors.
"Additionally, these businesses are pinned to the top of the list in their respective sectors when a user launches a search on gotobermuda.com. Fun Golf and Tobacco Bay/Beach Boys are in the Recreation and Entertainment Sector. Lili Bermuda is in the Retail and Shopping Sector.
"These latest certifications are milestones for the programme," said Bermuda Tourism Authority Standards and Training Manager Rasheeda Burgess.
"Fun Golf and Tobacco Bay/Beach Boys are the first businesses to complete the programme in the Recreation and Entertainment Category. And we're pleased the management at Lili Bermuda has now been through the process twice – initially for staff in St. George at the Bermuda Perfumery and now the team at the Lili Bermuda Boutique in Hamilton have also been certified.
"This tells us Bermudian businesses recognise the value of National Service Standards and understand that superior customer service gives them an edge, while helping to set Bermuda apart from its competitors."
"We are grateful for having had the opportunity to participate and encourage other local service providers to sign up," said Belcario Thomas of Beach Boys. "There's solid value in the NSSP's process, preparing Bermuda's tourism industry as an attractive destination to the next generation of guests who seek value for money and local engagement."
Lili Bermuda Store Manager Marie-France Thompson said: "We are thrilled and honoured to have been recognised by the Bermuda Tourism Authority and the local business leaders.
"This programme allowed us to assess and reinforce our policies and customer service standards. We strongly encourage all organisations dealing with the public to join the programme as it will also motivate your staff – not to mention the benefits of the marketing and the promotional value."
In order to gain certification participating businesses must demonstrate mastery of five principals of service on a consistent basis and have at least 70 percent of customer-facing staff complete the Certified Tourism Ambassador Programme.
Mystery shoppers visited the businesses more than once to ensure standards were being met and now those businesses can place an NSSP seal of approval in their storefronts and on their websites.
This past summer the following businesses earned their NSSP certification:
27th Century Boutique
Alexandra Mosher Studio Jewellery
The Bermuda Perfumery
Bermuda Transit Services
Chopstix Fusion
Dolphin Quest
Flanagan's Irish Pub
Businesses that would like to start the process of certification can apply online at service.bm.

Read More About