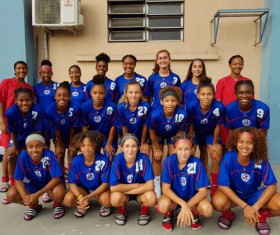 Bermuda's Under 17 Women's National team made a very successful showing in their second CONCACAF Caribbean Under 17 Final Round match in Haiti, defeating Jamaica by a score of 3 – 2.
Bermuda's starting line-up was Za'khari Turner, Koa Goodchild, Delia Ebbin, Danni Watson, Zekiah Lewis, Trinae Edwards, Jadae Steede Hill, Adaia Gibbons, Emily Cabral, Nia Christopher, and Leilanni Nesbeth.
Leilanni Nesbeth fired Bermuda into the lead early in the match, Nia Christopher doubled the lead when she beat the Jamaican goalkeeper from an angle, and Adia Gibbons scored the third when she was able to outpace the Jamaica defense and score pass an onrushing goalkeeper.
Bermuda then held a 3 – 0 lead at the break. In the second half, Jamaica came out strong, however so did the Bermuda defense, who did not allow Jamaica to level the score, with Bermuda recording the 3-2 win.

Read More About