WindReach will be hosting its 7th Annual Andrew Faries Archery Tournament on Saturday, October 14th at WindReach on Spice Hill in Warwick from 9:00 am – 1:00 pm.
Participants of all ages and abilities are encouraged to take part in this fun event. The tournament is in memory of Mr. Andrew Faries who was an active participant in the WindReach Archery and Adaptive Sports Programs for many years.
Cal Blankendal, WindReach's Adaptive Sports Coordinator stated, "I wish to invite all persons with an interest or experience in the sport of Archery, too attend. Since I was introduced to this exciting sport 8 months ago, I have seen the benefits it offers person of all abilities.
"Archery affords each individual to set their personal goals, foster new friendships and enjoy the outdoor settings at WindReach. The physical, cognitive and social aspects all aid in the overall development of each participant."
The tournament will offer three categories [Cub U13, Cadet U17 and Senior 18+] and is open to all with prior experience in archery. Persons without any prior experience are invited too attend and spectate, as various coaches will be available to provide information on courses and weekly classes.
Please contact Cal Blankendal [Adaptive Sports Coordinator] on 238-2469 or email at cblankendal@windreach.bm if you are interested in the WindReach Adaptive Sports Program or would like to compete in the Archery Tournament.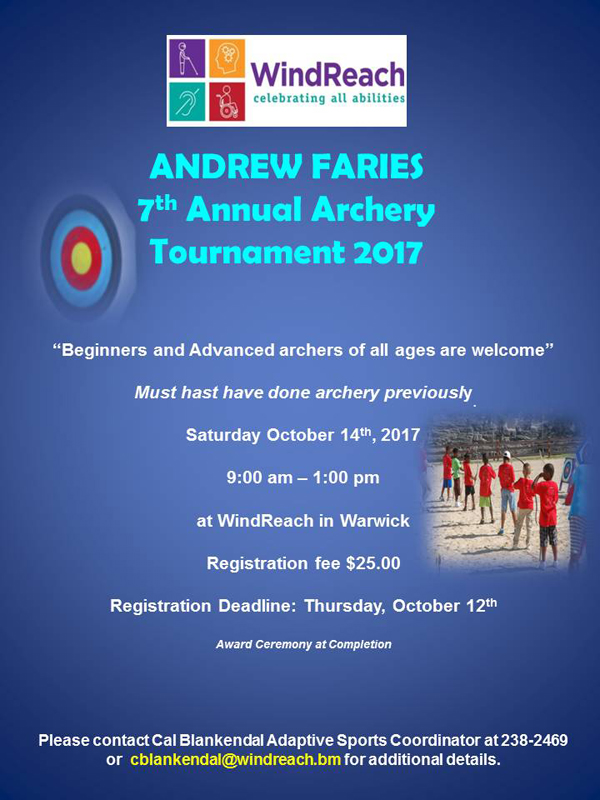 Read More About