Local referee Jaime Baum has been selected by Rugby Americas North [RAN] to take charge of games in the annual international tournament set to take place in November 2017.
The two day event will take place in Mexico City on November 25-26, 2017 with 10 men's and women's teams set to take part in the competition.
BRFU President Sean Field-Lament said, "We are delighted that RAN has asked Jaime to be part of the team that will officiate this prestigious tournament. I think it really speaks volumes to the knowledge and talent that we have here in Bermuda and a big thank you must go to KPMG as the sponsor of the local rugby referee society."
Referee Jaime Baum in the middle, photo courtesy of  James O'Shaughnessy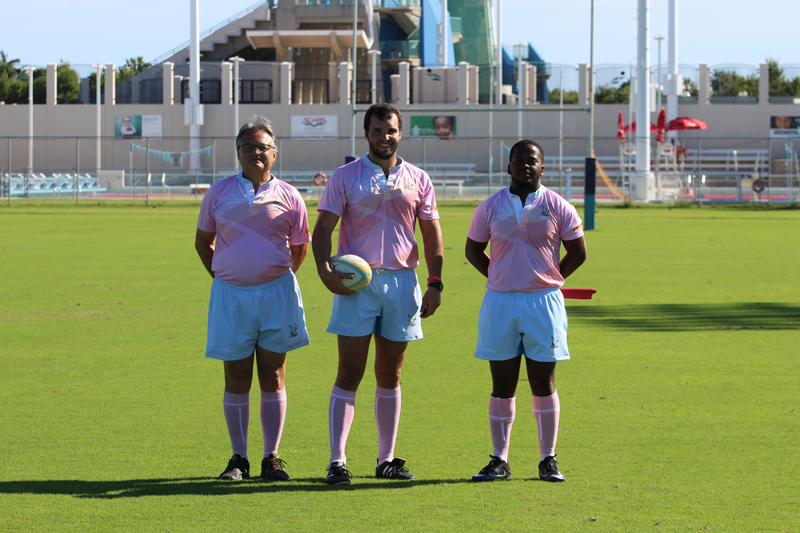 Baum has been in Bermuda for two years and where he plays in the forwards for Renegades RFC. He has been refereeing rugby for around 10 years and prior to Bermuda he was refereeing in Brisbane, Australia.
Whilst this will be his first time presiding over an international 7's game he has taken part in refereeing other international 15's games, most recently in the Cayman vs Bahamas 2018 World Cup Qualifier.
Baum said, "It is an honor and privilege to take part in the RAN 7's tournament. I am looking forward to the learning and growing from this experience."
The competition will see both Bermuda's Men's and Women's teams competing in the two day tournament. The women's teams will take part in a round robin with the Bermuda National Women's team likely to face strong opposition from Cayman, Mexico and Jamaica. The ladies will have three matches per day as the women's teams will play each country at least once.
The men's format is slightly different with teams being divided into pools. The Bermuda National Men's 7's are set to face strong competition from Jamaica and Dominican Republic in their pools.
This year is a particularly important year for the Bermuda National teams as if they do well they will be in contention to compete in the 2018 CASCO Games.

Read More About