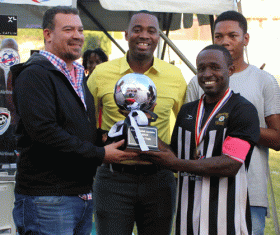 The PHC Zebras recorded a 3 – 0 win over the Devonshire Cougars at the Somerset Cricket Club in the Dudley Eve Final to claim the coveted trophy.
PHC Zebras starting line up was Quinaceo Hunt, Daren Usher, Na'eem Griffith, Rakeem Deshields, De-Andre Smith-Lightbourne [Dunte Albouy 75th], Tre Ming, Marquel Waldron, Keishon Bean, Marco Warren, Kenneth Matthie [Casey Castle 63rd], and Cecoy Robinson.
The Devonshire Cougars starting line up was Kioshi Trott [Casey Hardtman 85th], Calin Maybury [Moses Steede 39th], Cashun Brangman, Darren Williams, Jawonday Smith, Joshua Butterfield, Machi Battersbee, Mark Steede [Damian Simmons [57th], Shakii Pearman, Zekiro White, and Zeko White.
The PHC Zebras took the lead in the 3rd minute when a long ball forward in the 3rd minute by Na'eem Griffith saw Cecoy Robinson out run the Devonshire Cougars defense and calmly put the ball away.
Marco Warren doubled the lead in the 20th minute when he beat a Devonshire Cougars defender and lobbed the ball over an advancing goalkeeper Kioshi Trott.
In the 30th minute Trott was on hand to push a Robinson drive onto the crossbar before it was cleared, trot was called upon again minutes later to save the Devonshire Cougars again diving to his right.
After some back and forth playing between the two teams the PHC Zebras would increase their lead to 3 – 0 when Warren scored in the 70th minute this after a buildup that saw several PHC Zebras players involved with Warren calmly putting away a chance from close range.
In the 85th minute youngster Casey Hardtman replaced Trott in goal for the Devonshire Cougars and he made some timely saves to keep the score at 3 – 0.

Read More About