The Green Family have launched a new initiative that will provide free transportation for all public school students to visit Bermuda National Gallery's [BNG] Shepard Fairey exhibition, on loan from the Green Family art collection.
The exhibition, Shepard Fairey: rebel with a cause, is a collection of artwork by the contemporary street artist's work, including the iconic Barack Obama "Progress" and "Hope" prints. The artist creates work to advocate for the protection of human rights, from the abuse of political power and militarism to the support for minorities and gender equity.
School children visiting the Bermuda National Gallery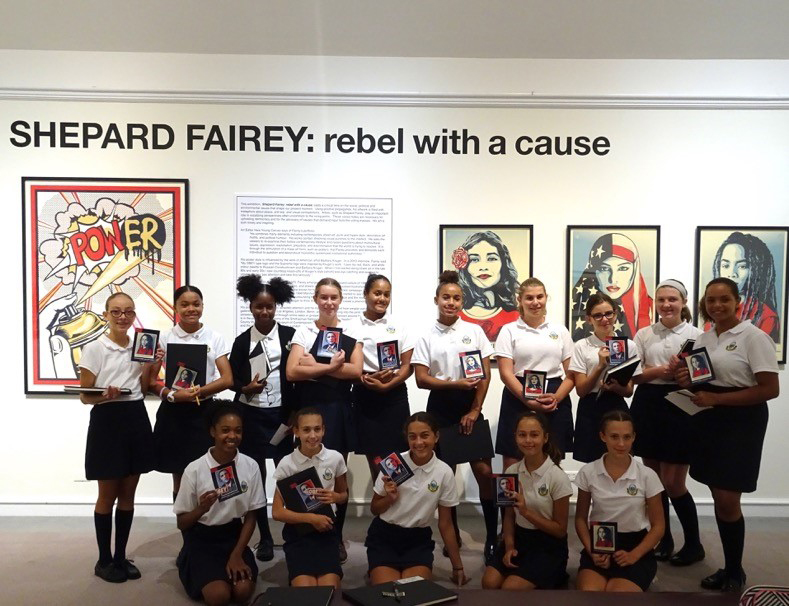 The BNG hopes that the exhibit will inspire students to engage in critical thinking, make global connections, politically and socially, to understand the importance of activism and learn how art can be an agent of change.
While some schools have already visited, feedback from others suggested that logistical issues were preventing many schools from getting to the gallery. The BNG and the Green Family have collaborated to ensure that the exhibit is accessible to all students.
The Green Family will be providing buses to transport public school students to the gallery, and BNG will be providing school tours to all schools. This initiative is possible with the support of the Ministry of Transport and Regulatory Affairs.
Since this initiative was announced to the schools on Friday, November 3, more than 1,700 students have been signed up to visit Bermuda National Gallery on the transport provided by the Green Family, and feedback from schools has been overwhelmingly positive.
Alexander Green, on behalf of the Green Family, said: "We are delighted to be able to share the work of Shepard Fairey, an iconic contemporary artist, with young Bermudians. Art is an important part of a well-rounded education and we are pleased to be able to provide all school children with this exposure."
Curator Sophie Cressall says, "As a contemporary art museum, Bermuda National Gallery actively pursues exhibitions that address topical matters, engage a wide audience, and instigate conversation and creative expression.
"This exhibition furthers the available opportunity to bring people together and address social issues, while adding an enriching experience to the local curriculum. We are grateful to the Green family for their continued support of the arts in Bermuda and for making it accessible to all students on the island."

Read More About
Category: All, Entertainment, News