The U.S. Consulate has invited American speaker Hilary Shelton to Bermuda to participate in a series of events leading up to Human Rights day on December 10.
Mr. Shelton, Director of the National Association for the Advancement for Colored People [NAACP] Washington Bureau and Senior Vice President for Advocacy and Policy, will participate in activities in partnership with Citizens Uprooting Racism in Bermuda [CURB] and the Family Centre.
On December 6, Mr. Shelton will participate in a public form facilitated by CURB, "Fulfilling our Commitments to Equal Opportunity and Equal Protection," at the Bermuda Underwater Exploration Institute [B.U.E.I] to speak about the current social climate in both Bermuda and the United States.
He will discuss topics concerning racial discrimination and inclusion, violence, community outreach and education followed by a Q&A session with the audience. The event starts at 7:00 p.m. and is open to the public.
In his current capacity with the NAACP – the oldest, largest and most widely recognized civil rights organizations in the United States – Mr. Shelton advocates the organization's federal public policy issues to the U.S. Government.
His extensive background in government affairs includes affirmative action, equal employment protection, access to quality education, stopping gun violence, ending racial profiling and preserving equal opportunity programs.
Mr. Shelton has served as the Federal Liaison and Assistant Director to the Government Affairs Department of The College Fund – most commonly known as The United Negro Fund – where he worked with U.S. Congress, the White House and many government agencies to secure growth and improve educational programming throughout 40 Historically Black Colleges and Universities [HBCU's].
The Consulate said, "He also advocated for over 8.5 million members of United Methodist Churches within as the Federal Policy Program Director of the General Board of Church and Society. He has been instrumental in the passing of legislation focusing on civil and women's rights, voting, and gun law legislation and has received numerous awards for his outstanding service.
"Hilary Shelton was invited through the U.S. State Department's Speaker Program which facilitates the travel of American experts to present lectures and conduct workshops for overseas audiences.
"This program will highlight this year's Human Rights Day, commemorating the Universal Declaration of Human Rights adopted in 1948 proclaiming universal values and a common standard of achievement for all people and all nations.
"For more information about the public forum, contact Camille Haley at haleycs@state.gov or 441-278-7504."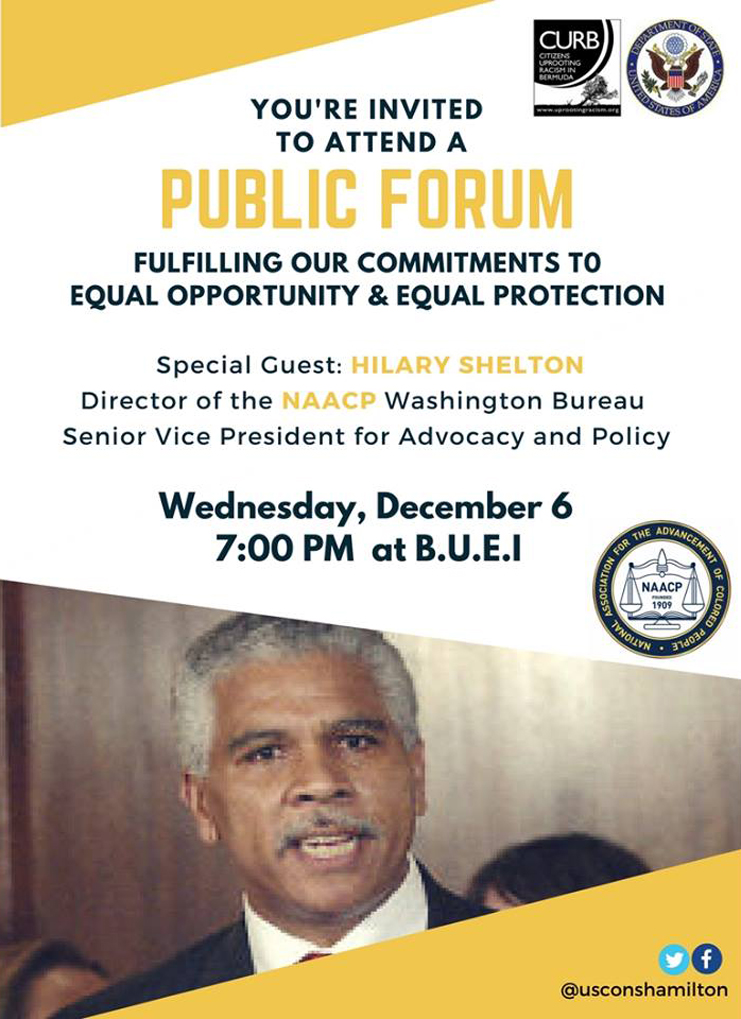 Read More About