British Foreign Secretary Boris Johnson is "under pressure to veto a ban on same-sex marriage on the British overseas territory of Bermuda," the UK's Mail on Sunday is reporting.
"For the law to take effect, it requires the signature of British Governor John Rankin, which is normally a formality. Before the Governor can 'withhold consent', however, he must seek approval from the Foreign Secretary," the Mail reports.
"The Mail understands Mr Rankin is taking advice on requesting Mr Johnson's authorisation to veto the bill," their report states, adding that Mr Johnson's "position is fraught with difficulties. Any veto would spark uproar in self-governing Bermuda, with accusations of 'neo-colonialism."
The Mail quotes the British Foreign Office as saying, "The UK Government is a proud supporter of LGBT rights and continues to support same sex marriage.
"While the UK Government is disappointed with the implications of bill, this is a matter for the Bermuda Government acting within the terms of the Bermuda constitution and in accordance with international law."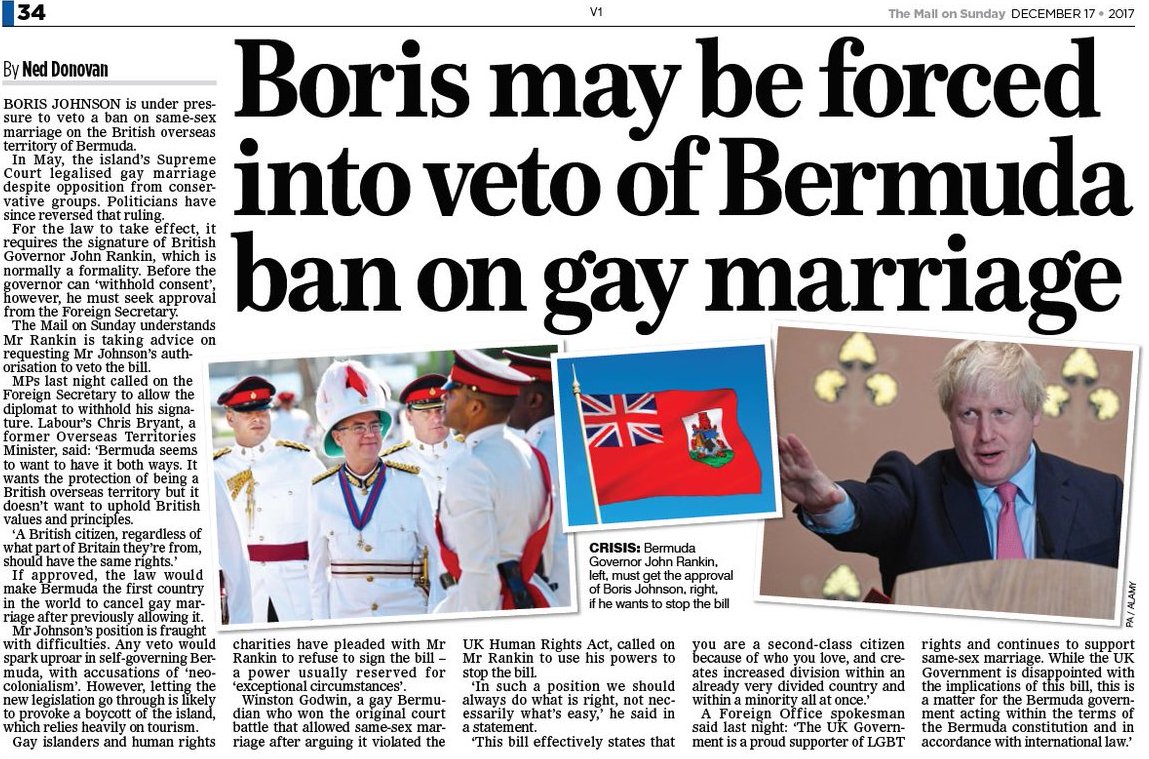 The Domestic Partnerships Act passed in the House of Assembly and then passed in the Senate, with the Domestic Partnerships Act [PDF] designed to replace same-sex marriages with a domestic partnership which can be entered into by both same-sex and heterosexual couples.
Having been approved in both the House [24-10] and Senate [8-3], the Bill heads to the UK-appointed Governor for assent, which is normal procedure and generally seen as a formality, however it has been a topic of speculation, and the U.S. based Human Rights Campaign has urged the Governor to "veto" the legislation.
Home Affairs Minister Walton Brown told ZBM that he "expects the Governor will sign it," while Premier David Burt told Bernews, "I expect that the Governor will ratify the Bill of the Parliament."

Read More About