"Bermuda gained the shameful honor of being the first jurisdiction to allow marriage equality and then remove and replace it with legislation that is aimed clearly at being separate and unequal," the Bermuda Human Rights Commission said, adding that "we must stem the attacks and erosion of Human Rights that has been pervasive over the past two years of our tenure."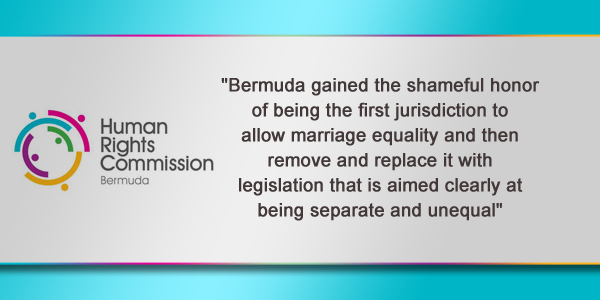 Domestic Partnership Act Passes In House & Senate
The Domestic Partnerships Act passed in the House of Assembly on Friday night, and then passed in the Senate yesterday by a vote of 8 – 3, with the five Government and three Independent Senators voting for it.
Same sex marriage became legal in Bermuda following a Supreme Court decision in May 2017, when the court ruled that "common law discriminates against same-sex couples by excluding them from marriage."
However this Bill will change the legal status, with the Domestic Partnerships Act [PDF] designed to replace same-sex marriages with a domestic partnership which can be entered into by both same-sex and heterosexual couples.
Having been approved in both the House [24-10] and Senate [8-3], the Bill now heads to Government House for assent.
Human Rights Commission Comments
A Human Rights Commission spokesperson said, "Bermuda has a long history of discrimination and racial injustice and sadly as we near the end of 2017, the Human Rights Commission reflects on our work over the past year in which we responded to complaints on numerous Human Rights issues, including claims of discrimination based on race, place of origin, disability, and claims of sexual harassment.
"The Human Rights Commission heads into 2018 facing the stark reality that, in addition to the discrimination and injustice that we bring attention to, Bermuda is not immune to the populist movements sweeping across the globe. Such movements remind us that the fight for Human Rights requires constant vigilance.
"Yesterday, Bermuda gained the shameful honor of being the first jurisdiction to allow marriage equality and then remove and replace it with legislation that is aimed clearly at being separate and unequal.
"The Human Rights Commission understood the reality that the Domestic Partnership Act 2017 ["DPA"] had a high chance of passing and this is why, whilst we opposed the DPA, we still proposed amendments that we believed would be in the best interests for those affected by this discriminatory Act.
"The Human Rights Commissioners remain committed to advocating and educating on issues of discrimination and injustice. We must stem the attacks and erosion of Human Rights that has been pervasive over the past two years of our tenure.
"The gradual and consistent carving back of rights will result in a weakened mechanism for protection against Human Rights abuses, when global and local trends indicate that we are entering a time in which we need those protections for those who are most vulnerable among us."

Read More About