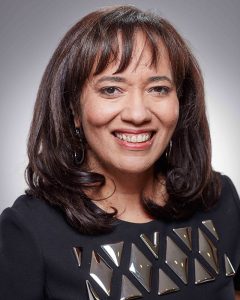 The Bank of N.T. Butterfield announced that Pamela Thomas-Graham has been appointed to its Board as a Non-Executive Director.
Ms. Thomas-Graham is a Harvard-educated entrepreneur and executive with nearly three decades of experience in the financial services, media and apparel industries. She is the Founder and current Chief Executive Officer of Dandelion Chandelier LLC, a private digital media enterprise focused on the intersection of luxury, marketing and technology.
Prior to establishing Dandelion Chandelier, Ms. Thomas-Graham spent six years with Credit Suisse where she served as Chief Talent, Branding and Communications Officer, and Chief Marketing and Talent Officer & Head of Private Banking and Wealth Management New Markets. From 2008 to 2010, she was Managing Director of private equity firm, Angelo, Gordon & Company, leading the firm's investments in the consumer and retail sectors.
Before assuming leadership roles in financial services, Ms. Thomas-Graham was Senior Vice President, Global Brand Development and Group President, Apparel Brands at Liz Claiborne [now Kate Spade & Company] where she was responsible for the P&L of 18 global brands.
Prior to joining Liz Claiborne, she spent six years at NBC Universal, where she served as President and Chief Executive Officer of CNBC.com, and later President and Chief Operating Officer, and Chairman, President and Chief Executive Officer of CNBC.
Ms. Thomas-Graham began her career at global consulting firm McKinsey & Company in 1989, and became the firm's first African-American female partner in 1995. She was named one of the "Top 10 Consultants in America" by Consulting Magazine in 1999.
Ms. Thomas-Graham holds Bachelor of Arts in Economics, Master of Business Administration, and Doctor of Law degrees from Harvard University. She currently serves on the board of The Clorox Company as the Lead Independent Director, as well as the boards of several non-profit organisations in the US.
Michael Collins, Butterfield's Chairman and Chief Executive Officer, said "On behalf of my fellow Directors, I am pleased to welcome Pamela to the Butterfield Board.
"With her extensive leadership and board experience across a number of industries and disciplines, and a demonstrated ability to launch and grow global brands, Pamela will be a tremendous resource to the Bank as we continue to focus on enhancing shareholder value through trust and wealth management acquisitions."
Read More About