The Bermuda Cricket Board [BCB] has secured two of the four available places that were provided to Associate members of ICC Americas, on a Cricket West Indies curator course later this month.
The course will be run by ICC Pitch Consultant Andy Atkinson in Antigua on December 18th, 19th and 20th. The workshop will include pitch preparation, planning the use of the pitch block pre-season, pitch renovation and discussions on grass coverage of pitches.
BCB Groundsman of the Year Calvin "Squallor" Richardson and Allan Douglas Sr. were selected by the BCB to attend the event.
Calvin 'Squallor' Richardson, BCB Groundsman of the Year, pictured with Minister Foggo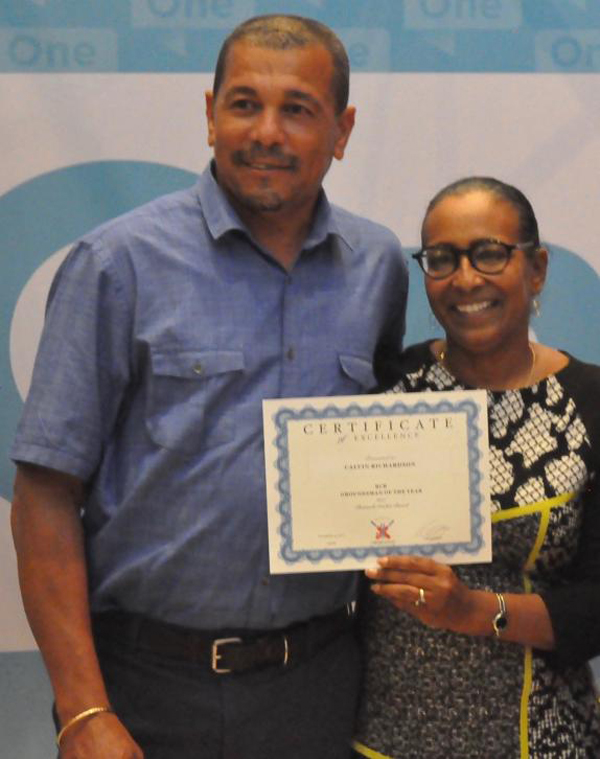 BCB President, Lloyd Smith, said: "I am very pleased that out of 15 countries competing for places the BCB has been awarded 2 of the 4 places available. The quality of our pitches is a major factor in improving our standard of cricket, by allowing the players to express themselves and play to their best.
"Therefore, the art of curatorship is a critical skill that all clubs with grounds need to have, to not only turn the fields over from football to cricket but to create a surface to play on that is enjoyable for all players to improve their craft and develop cricket in Bermuda.
"I am looking forward to having Squallor and Allan bringing back to Bermuda their new knowledge to share with other curators, and would-be curators.
"I fully expect that this initiative will assist the Clubs/Curators in having a large resource of knowledge inside their fraternity, for improving their surfaces for the 2018 season."

Read More About