At the Annual General Meeting of the Bermuda Foundation For Insurance Studies [BFIS] held today [Dec 5], Chairperson Gail Martin welcomed Stephen Jones who will be taking on the role of President.
"Stephen has served on the Board since 2014 and on the Scholarship Committee since 2011. As a BFIS Scholarship recipient, mentee and mentor, Stephen has an in-depth knowledge of the Foundation and is a strong advocate for the work that BFIS does from high school up to post-graduate and young professional level," the BFIS said.
Photo: BFIS Board and Committee Members attending the AGM [left to right – not seated] Yuki Sun, Tatyana Butterfield, Helen Crisson, Tyler Kerr, Robin Spencer-Arscott, Nick Butterfield, Laura Burns, Kyla Evans, Brittany De Frias, Andrew Osborne, Joe Rego, Neil Anderson, Victoria Cunningham, James Botelho, Dr. Duranda Greene, David Amaro, Nakia Foggo. [seated] David Soutter [Treasurer], Cathy Lapsley [Executive Director], Gail Martin [Chairman], Stephen Jones [President], Jane Bielby [Administrator].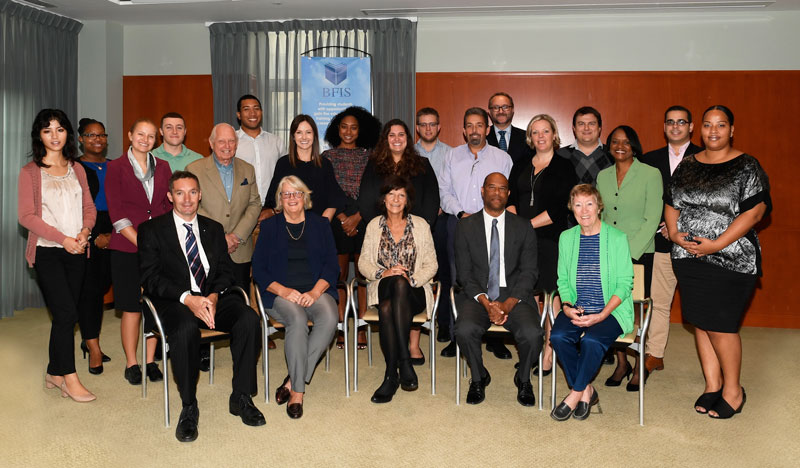 Mrs. Martin thanked the BFIS Board and Committees and all the other volunteers who assist with the BFIS mentor networking and career information programmes, saying, "They are a vital part of making BFIS into the exceptional organisation it has become over the past 21 years and makes me very optimistic for our future. We now see that 60% of all our committees comprise BFIS alumni."
She gave special thanks to the BFIS staff, Cathy Lapsley and Jane Bielby, saying "They are, as always, very enthusiastic and nurturing and every student I speak with tells me how helpful they are and what a difference BFIS has made in their lives.
"In general, our Scholarship programme gets the most recognition but in fact BFIS does so much more. Cathy and Jane spend a lot of time in our senior schools, both public and private, giving Career Guidance presentations, helping students understand more about insurance and careers in the industry. These sessions are followed by Lunch & Learns where students get to meet and chat with professionals in a casual atmosphere."
"There are also several Networking Events every year for both high school and college students. The thousands of students who have participated over the last few years are very positively impacted by participation in the sessions. BFIS also organizes one-on-one Mentoring which the students find of huge benefit.
"Then, of course, there is the Intro-to-Insurance Internship programme which provides college students with opportunities to learn in-depth all about insurance in various jurisdictions, an incredible learning curve for them. Finally, BFIS provides a Job Search programme which benefits hundreds of students, graduates and sometimes non-traditional potential insurance professionals."
She noted that for 2018 a 'Schools Outreach Committee' has been formed to answer the need to gain even more traction in promoting the insurance industry as a career option in Bermuda's high schools.
Giving an overview of the Financial Statements, BFIS Treasurer David Soutter said, "BFIS is in a sound financial position, albeit operating in an environment which continues to be challenging. The Finance Committee continues to have a disciplined approach to managing the Foundation's balance sheet which will serve and deliver for many years ahead."
"The Foundation benefitted from the strong equity performance in the last 12 months which helped it balance its finances in the year. This strong investment performance will not continue and it is up to the Finance Committee to continue to manage the affairs of the Foundation in the years when the investment returns are not as buoyant. The best way to do this would be to continue to target new sources of donations to compensate for lower investment performance."
Read More About