The Bermuda Arts Centre at Dockyard will be hosting a "Winter Open" show on Wednesday [Jan 31] from 6.00pm to 8.00pm, with the show continuing until Friday, February 23.
A spokesperson said, "The Bermuda Arts Centre at Dockyard is hosting their "Winter Open" show this coming Wednesday night [January 31]. Strange night for an opening, and it all has to do with the rise of the Full Blue Moon.
"To celebrate this auspicious occasion, the Bermuda Arts Centre is also holding a one off "Blue Moon" Sale at this opening only. Everything in their Gallery from 6:00 p.m. – 8:00 p.m. will be 25% off. Shop for Valentines day. Shop for Christmas. Shop for yourself !
"New works of art of on the walls and a gift shop full of interesting Bermuda Items. If it's not made in Bermuda, the Gallery doesn't carry it.
"In addition, The Bermuda Plein Air Group will be in Dockyard painting the Blue Moon as it rises over the Great Sound. They will be bringing their paintings to the Gallery at around 7:30 p.m.Paintings will be available for sale right off the easel.
"So, if you're into the Moon and also looking for the best deal in Art… Ever ! Head up to Dockyard this Wednesday night for 6.00pm.
"Bring your camera and join The Bermuda Arts Centre this Blue Moon in Dockyard; the Blue Moon will rise at 6.14pm.
"The show opening will take place from 6.00pm to 8.00pm, plein air painters will paint from 6.15pm to 7.15pm, and there will be a 25% discount off everything in the gallery from 6.00pm to 8.00pm.
"The show will remain on the walls until February 23, 2018."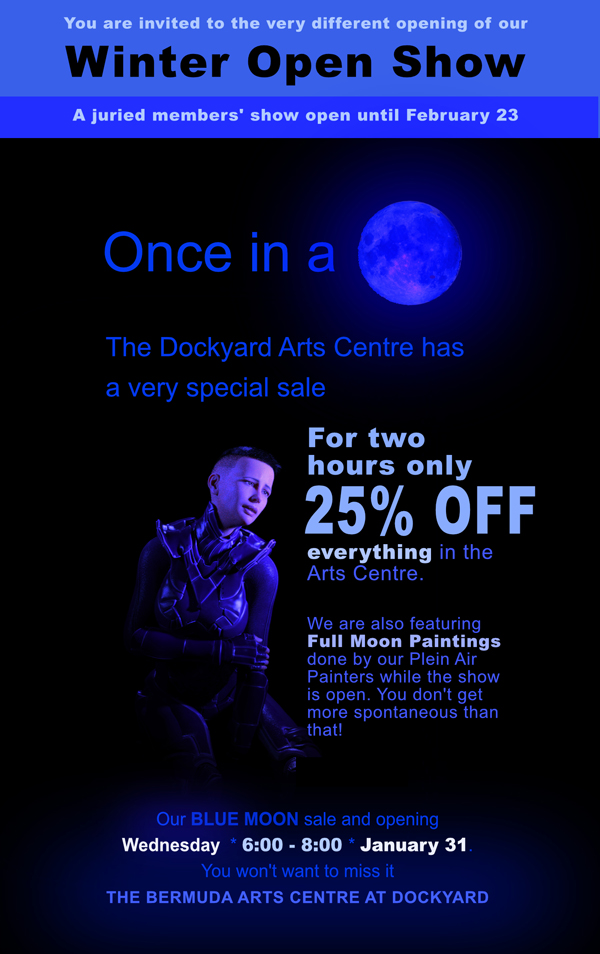 Read More About
Category: All, Entertainment