The final round of the Bermuda Four Ball Championships was played at Port Royal  with Damian Palanyandi and Fraser Hunt claiming the title of Men's Four Ball Champions after a battle with the overnight leaders, Jarryd Dillas & Will Haddrell.
After a drive on the first hole which appeared like it may have gone out of bounds, Palanyandi was fortunate to discover that his ball had in fact found the fairway and he was only about 113 yards from the green.
He was able to put his approach shot close and make birdie which removed the overnight one shot deficit from Dillas and Haddrell. Palanyandi and Hunt played well as a team and managed to hold off their competition to take the Men's Championship title with a total score of 134.
Damian Palanyandi & Fraser Hunt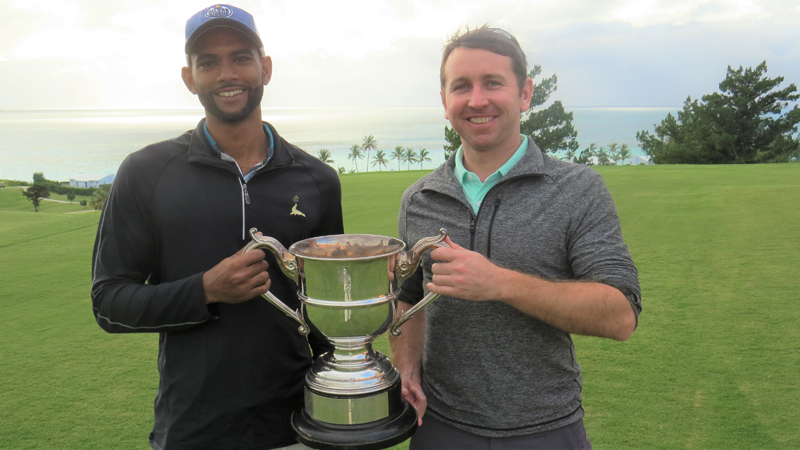 In 2nd place, on a tie break with 137 was Kenny Leseur and Leroy Burch, who took second place over Jarryd Dillas and Will Haddrell.
In the Ladies Championship flight, Ann Symonds and Tracy Burgess maintained their strong first round performance and concluded with a convincing win to take the title of Ladies Four Ball Champions with a total score of 151 over Linda Down and Katrin Burnie.
Ann Symonds & Tracy Burgess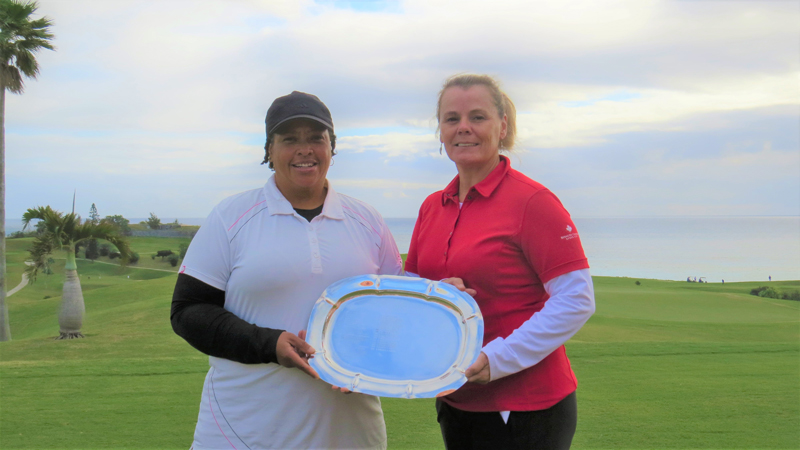 In the Senior Men's Championship flight, Craig Christensen and Bill Pitt maintained their earlier round performance and won their flight with a significant lead of 9 strokes over Peter Shaw and Michael Naugler with a total score of 146.
The Bermuda Four-Ball Championships Gross results follow below [PDF here]:
The full Bermuda Four-Ball Championships Net results follow below [PDF here]:

Read More About