BF&M has been named as a main sponsor for the ITU World Triathlon Bermuda. The prestigious ITU World Triathlon Series has added Bermuda as one of eight countries on the global circuit.
"World Triathlon Bermuda welcomes this partnership with a leading Bermuda health insurer, as our sport encourages healthy living," said Phil Schmidt, Local Organizing Committee Chairman of World Triathlon Bermuda.
"We appreciate BF&M recognizing the opportunity this premier event brings for Bermuda in our growing sports tourism calendar," said Pat Phillip-Fairn, Chief Product & Experiences Development Officer, BTA.
The event will be hosted in Hamilton on April 28th 2018, showcasing the island's naturally crystal clear waters, hilly terrain and colourful buildings. Bermuda residents are being encouraged to be out in full force to proudly support Bermuda's achievement as host and to support the reigning World Champion, Bermuda's own Flora Duffy.
Abigail Clifford, Chief Administrative Officer of BF&M, congratulates Flora Duffy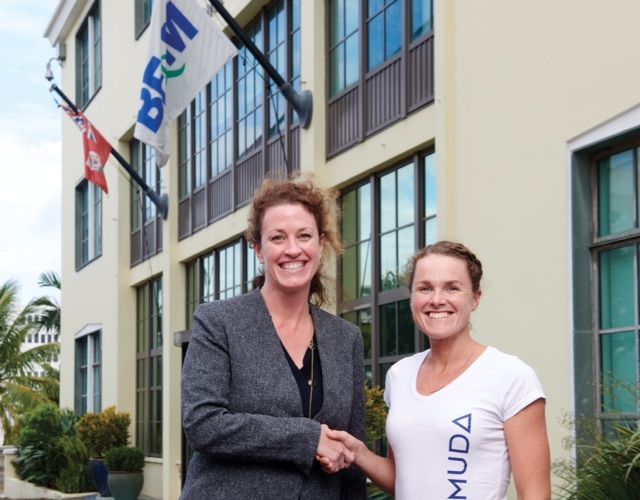 John Wight, President and CEO of BF&M Limited, said, "Having the opportunity to celebrate Flora's achievements and to support her in a World Triathlon Series event right here at home is incredibly exciting."
"As a leading health insurance provider, supporting an athletic event of this calibre is a perfect fit for BF&M. If even one young person is inspired to get fit, after watching these world-class athletes—perhaps even to take up the sport seriously—then our sponsorship will have been worth it. A lifetime of medical expenses for one person can far exceed the cost of this sponsorship, so inspiring the community to exercise is a priority."
"In addition, as a 115-year-old Bermudian business, we are deeply vested in seeing Bermuda succeed as a premier tourist destination and in stimulating the local economy. For these reasons we are excited to be a Main Sponsor for the World Triathlon Series in Bermuda," said Mr Wight.
The Elite race that Flora Duffy will compete in, and the Age Group amateur race which will attract hundreds of runners, will both be on Saturday April 28th.
The organisers said, "Front Street will be the focus of all racing. Athletes will line up for a spectacular swim start at Number 1 car park, where free public viewing areas and a VIP section will be positioned for a great viewing advantage.
"The Elite race will transition onto bikes and the run right in front of spectators on Front Street. The central location offers great viewing for spectators, and several significant technical challenges for athletes.
"One of the spectator highlights of the bike courses will be watching athletes pumping their way up Corkscrew Hill in a gruelling steep effort. It is anticipated that hundreds of people will participate in the Age Group amateur event, including locals trying their first triathlon. Organisers welcome sportspeople of other disciplines to register and train for the April event, which does not require a qualifying time."

Read More About