The Pembroke Rotary Club helped to make sure that clients and families of those who are supported by STAR had a bright and happy Christmas by raising funds and donating non-perishable food items to provide STAR families in four holiday-season hampers of food and toiletries.
In addition, the Club donated a $500 grocery store gift card so that perishable fruits and vegetables could also be purchased for Christmas dinners.
Sony Kessaram [PRC], Ruth Skinner, STAR, Lisa Wagner [PRC] and Gilda Furbert [PRC]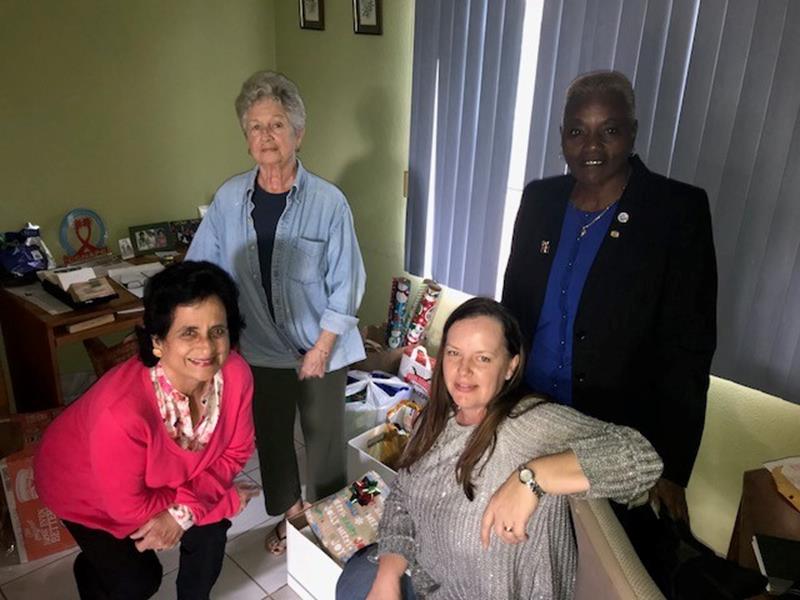 "Christmas should be a special time for children, so the Club also made sure that their donations included gifts and pajamas for five children of STAR supported families," the Club said.
"Club Members, Lisa Wagner and Gilda Furbert, along with Honorary Member Sony Kessaram, visited the STAR Light House to present the gifts and hampers to the Live-in Supervisor, Ruth Skinner on 14 December, 2017.
"Ms. Wagner, the Pembroke Rotary Club Community Service Director, in making the presentation on behalf of the Club, wished Ms. Skinner and all of those supported by STAR a Merry Christmas and joyful New Year.
"Ms. Skinner accepted the gifts and explained that STAR was founded in the late 1980's to support those who were afflicted with AIDS.
"She told the Club members that with the advent of more effective anti-retroviral medications, the outlook for people infected by the Human Immunodeficiency Virus [HIV] is much brighter than it was when STAR [Supportive Therapy for AIDS persons and their Relatives] was founded.
"However, even with the advances in medicine, HIV positive persons and their families sometimes still need support, and that's where STAR steps in to provide assistance and a safe haven when it is required."
Read More About
Category: All