[Written by Mikaela Ian Pearman]
My second stop for Restaurant Weeks was another restaurant I've never been to – Beau Rivage. I'm not sure why I hadn't eaten there prior to last weekend because I've always heard the food was very good. And it certainly was.
When my husband and I arrived, me were met by Manoj, assistant Maitre'D, who quickly ushered us to a table overlooking the harbour. We couldn't have asked for a better table or a better view.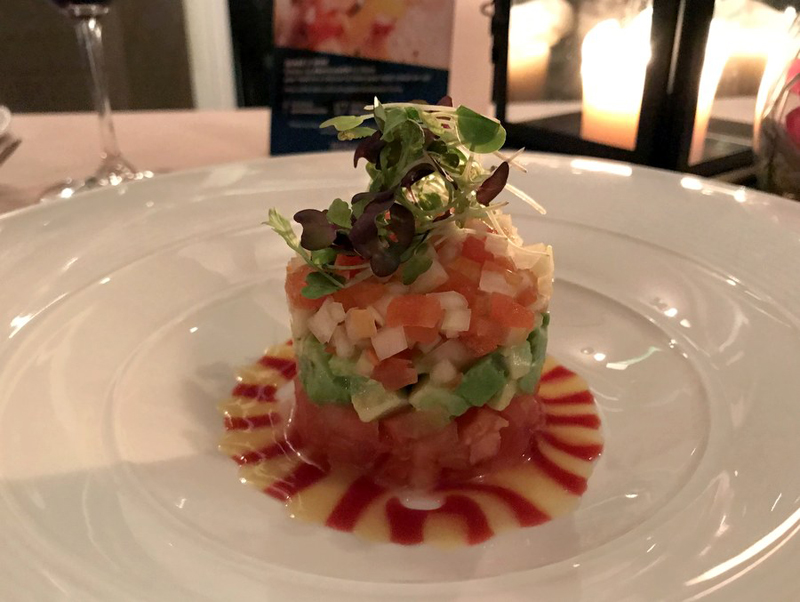 We sat down and Manoj invited us to look over the menu while he brought us drinks – a Rum Swizzle for me and a glass of Malbec for the hubby. When it came time to order, we both decided on Homemade Bermuda Pumpkin Ravioli with citrus sauce and Mahi Mahi Fillet with Golden Potato Scales and Sancerre white wine sauce. For dessert we opted for both offerings – Lemon Poppy Seed Cake with ginger beer sorbet and Black Rum & Banana Semi Freddo.
Starting off with the appetizer, there were three ravioli in the bowl with the sauce and fried pumpkin skin as a garnish. The pasta was soft, but chewy – perfectly al dente. The filling was creamy and full of pumpkin flavour.
The sauce complemented the ravioli perfectly without overpowering the pumpkin. I find sometimes cream sauces can be heavy, but since this was citrus based, it was light and delicious. We both agreed we could've eaten an entire bowl of the ravioli.
Manoj also brought out the other appetizer choice – Tartare of Local Tomato, Avocado & Papaya. It was light and refreshing, almost like a palette cleanser.
Our main courses came out a few minutes later and we were again wowed. The mahi mahi was perfectly seared and the potato scales were thin and crispy. I'd never had potato scales on fish before and understand it's a classic French preparation. We both loved it and would happily order it again.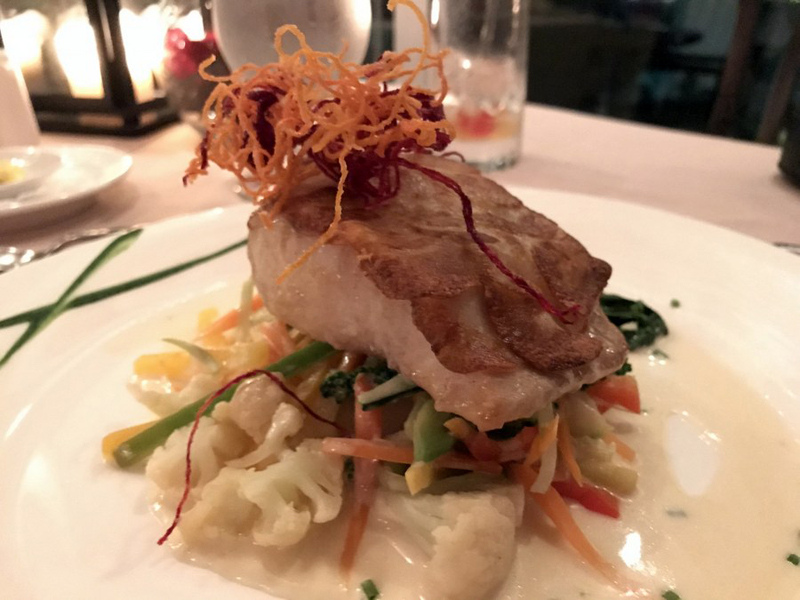 One thing I loved about this dish was the perfectly sautéed veggies, which came as a bed under the fish with the Sancerre sauce. The veggies were not an afterthought as they tend to be at a lot of restaurants. They were an integral part of the dish and I appreciated that. The crisp veggies with the decadent sauce and incredible fish made for a wonderful dish.
I honestly wasn't in the mood for dessert, which is rare, but I figured I would have some anyway. Now I must start by saying I don't like banana, but wanted to try the semi freddo anyhow. I'm glad I did because it was so rich, but light at the same time. I didn't find the banana flavor overpowering – it added to the creaminess of the dish.
The cake was also delicious but the ginger beer sorbet was the highlight of the dessert round. It wasn't too sweet and was a great way to end the meal.
So now that I've dined at Beau Rivage, I will absolutely go back. The food, service and presentation were all top notch. I highly recommend checking it out during Restaurant Weeks.

This year's Restaurant Weeks is running from January 11 to February 4, with the largest number of participating restaurants ever, at 51. The three levels of pricing for this year's dinners are $32, $42 and $52, and lunch is also being offered by 14 restaurants for $22. You can view all our coverage of Restaurant Weeks here, the full list of lunch menus here, the list of dinner menus here, and all coverage of cuisine here.

Read More About
Category: All, Entertainment, News