Anton Gilbert has successfully completed the educational program required to achieve the designation, UCI Road Elite National Commissaire by the International Cycling Union.
The program was hosted by the St. Vincent & Grenadines Cycling Federation in early December and Mr. Gilbert's participation was funded by the  Bermuda Bicycle Association [BBA].
From left to right: Shimano Bailey [St. Vincent], Jay Douglas [St. Vincent], Wayne Pomario – Instructor, Rowena Williams [Trinidad & Tobago], Livingston Hedley [Barbados] and Anton Gilbert [Bermuda]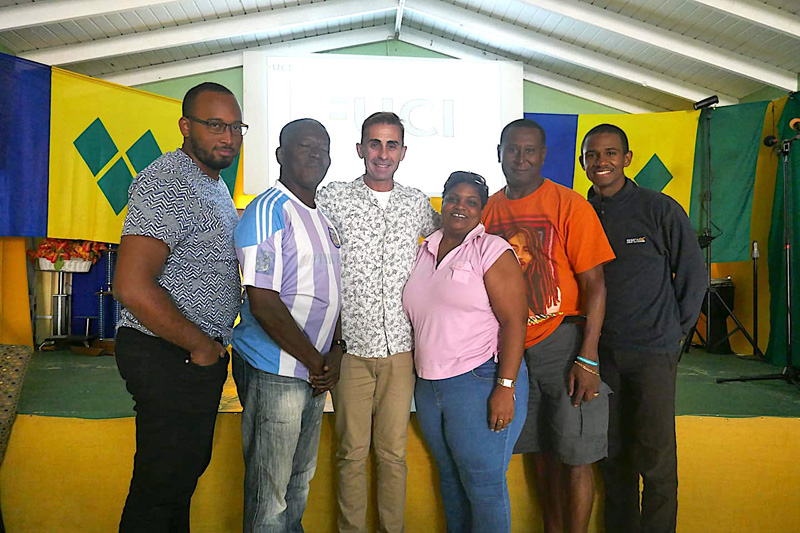 This officiating designation is the first step in working towards the UCI International Commissaire title and is a first for the BBA.
Currently the BBA has a pool of 15 individuals managed by Ms. Fiona Miller, who have completed a local officiating training program to cover local racing in mountain biking, road races and cyclocross.
Mr. Gilbert, a Constable with Bermuda Police Service, will now take a leading role in the BBA's major events and help develop further the cadre of officials.
BBA President Peter Dunne commented, "Anton's successful completion of this program represents a huge commitment on his part and a major step forward for our officiating capabilities. Having this resource within our organization is an asset of great value and will help us deliver even better events.
"Hopefully with Anton's assistance we can work to host a similar program here in Bermuda to give even more individuals this potential pathway to furthering their officiating skillset. The BBA extends its heartiest congratulations to Anton."

Read More About