[Updated] Premier and Minister of Finance David Burt and Junior Minister of Finance Wayne Furbert are holding a 'Pre-Budget' public meeting this evening [Jan 30] at St. Paul Centennial Hall, and if you were unable to make it, you can tune into the live video below.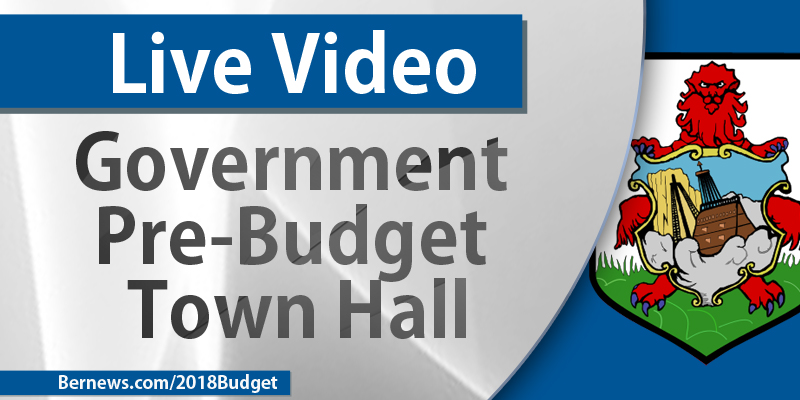 Some of the considerations for inclusion in this year's budget contained in the 35-page Pre-Budget Report include not moving ahead with the second phase of the payroll tax proposal by the former Government, payroll tax relief for repatriating jobs back to Bermuda; a Professional Services Tax on legal, accounting & other business consultancy services; a sugar tax, and taxing commercial rents.
Live video below, if you have any issues watching, please try viewing on Bernews Facebook page
Earlier today, a Government spokesperson said, "A meeting open to the public beginning at 6pm at the St Paul's Centennial Hall will provide people a chance to hear details about the Pre-Budget Report, and, ask questions about the Government's upcoming 2018/2019 Budget.
"The Premier and Minister of Finance the Hon. David Burt, JP, MP and the Jr. Minister of Finance the Hon. Wayne Furbert, JP, MP are hosting the meeting, prior to the final process to prepare the Government's annual Budget."
The 2018/19 Budget is set to be delivered on February 16th, and will mark the first Budget delivered by the PLP Government following their victory at the polls last year.
The Pre-Budget report follows below [PDF]:
Updated January 31, 1.00pm: The Pre-Budget Slideshow shown at the meeting follows below [PDF here]
Read More About