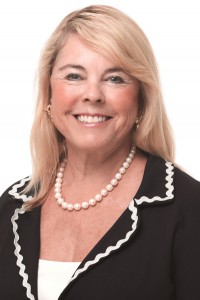 Lyndy Thatcher is celebrating her 25th anniversary in the real estate business, and her team at Rego Sotheby's International Realty said they "celebrate the success of her career, her dynamic personality, and the enthusiasm she brings to the world of real estate here in Bermuda."
"It's hard to believe that January 2018 marks my 25 years in Real Estate," said Ms Thatcher. "I love this island; I love the Bermuda lifestyle. My clients mean everything to me, and I am really proud of the work I have accomplished at Rego Sotheby's International Realty.
"Bermuda is a great place to live, and I love knowing about all the interesting, historical details of Bermuda's beautiful properties.
"I can honestly say that I have visited most of them myself either as a professional or as a guest. Having that personal inventory has helped me achieve success with my clients. I'm ready for the next 25 years."
Rego Sotheby's International Realty Partner Penny Pascual MacIntyre said, "Lyndy's ability to personally connect with people has led to lifelong friendships who have evolved as loyal clients. In real estate, half the battle of a long-term successful agent is enthusiasm…and Lyndy wins hands-down there."
Rego Sotheby's International Realty President Buddy Rego said, "Lyndy Thatcher has been with Rego Sotheby's International Realty now for 25 years, and it has been an absolute pleasure to have her on our team.
"Lyndy is tireless in her enthusiasm for real estate and is very dedicated to her clients. We are extremely appreciative of the success she has brought to our company. She is the epitome of a unique and charismatic real estate agent, and we are really proud to have her as part of our team."

Read More About