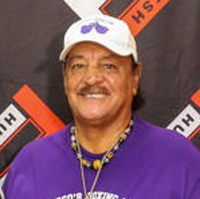 [Updated] The Bermuda Boxing Federation, the boxing community, the Bermuda Sanshou Association, and Hall of Fame boxing referee Steve Smoger are mourning the passing of Allan "Forty" Rego, saying he was the "elder statesman" and "synonymous with boxing in Bermuda."
Bermuda Boxing Federation President Nathan Dill said: "It is with deep sadness that The Bermuda Boxing Federation Executive and the boxing community have learned of the untimely passing of Mr. Allan "Forty" Rego.
"Mr. Rego, the elder statesman of our organization, was synonymous with boxing in Bermuda and was a pillar in the community. For years, he would train youth out of his home gym at no cost and could be found at each and every boxing event.
"He was a wealth of knowledge, loved and feared but undeniably respected. His one whisper was equal to a hundred shouts, as whatever Mr. Rego said or suggested became the gospel of what was to be or what should be.
"Mr. Rego was a skilled tactician having trained many top boxers including Troy Darrell and Teresa Perozzi. Most recently, young athletes Nikki Bascome, Andre Lambe, and Tyler Christopher found a home at 40 Rego's Gym.
"Mr. Rego and his coaches were supporting the latter two elite boxers to follow a path walked by few athletes, in aspiring towards Olympic representation for our small island. His passing marks a hurdle to that preparation, with his team already feeling his physical absence. The island has truly lost one of its sports heroes.
"Mr. Rego made an impact wherever he went and on whoever he met. The Bermuda Boxing Federation executive are pleased to have made it a point to honor Mr. Rego whilst accolades were able to be given.
"In February 2017, we recognized Mr. Rego with a Long Service Award, which we were told that despite being involved in boxing for half century, was the first such award given to him from the local boxing governing body.
"Mr. Rego and his family were greatly pleased to have received that honor and the Bermuda Boxing Federation look forward to keeping his legacy alive and working toward the continued growth of the sport that he loved.
"Our February 17th event "The Next Greatest" will now take a new meaning in being the first event held which will not have his strong presence, coincidently being held a year following his well-deserved honor. We encourage the community to come out as we pay tribute and support the life work of Allan "40″ Rego."
Professional Boxing Referee Steve Smoger said, "It was my pleasure to know and work with Rego. I truly liked and admired him. He was an old school boxing coach who always had the best interests of his fighters at heart. He expected his fighters to train hard and fight hard – no excuses.
"I always looked forward to seeing him on my 'fight trips' to beautiful Bermuda. When he saw me, he would say 'Hey Smoger, how are you? Welcome back to Bermuda!"
"He always treated me with dignity and respect. He was genuinely happy for me when I was inducted into the International Boxing Hall of Fame in 2015. To me, the passing of Rego ends an era of boxing in Bermuda. May he Rest in Peace."
Update 4.17pm: Garon Wilkinson, from the Bermuda Sanshou Association, said, "Allan 'Forty' Rego played a very intricate role in the development and success of Bermuda Sanshou Association, the full-contact Chinese kickboxing organization that I co-founded back in 2005 and currently serve as President and Head Coach.
"I had the privilege of meeting Mr. Rego during my school days as track athlete. He helped to coach and mentor my father during his running career and I remember Mr. Rego coming by our house to rub me down during big events such as the Front Street Mile.
"Mr. Rego opened his home gym to me when I was home from Japan training and Rego's Gym subsequently became the home of Bermuda Sanshou Association [BSA] for a number of years. Mr. Rego was a Grandmaster in the art of boxing…one of the major elements of the sport of san shou. His coaching and guidance is irreplaceable and a lot of the boxing we learned still plays a major part in our program today.
"One of the highlights for BSA was when Mr. Rego and his wife Joanne traveled with us in 2007 to our very first World Wushu Championships in Beijing, China. It would be the Rego's first trip to Asia and an opportunity that they did not want to let slip by.
"I remember after my world championship debut being approached by a fellow competitor and being asked if our team members were all boxers. I found that question very interesting given all of us were former traditional martial artists background, but our boxing skills learned through the tutelage of Mr. Rego quickly became our strongest weapon.
"That first world championships was very memorable for us and the Rego's, I remember he purchased some fine Chinese custom-made garments there, some of which you may have seen Mr. Rego wear, because as the saying goes 'he never had any flies on him.'
"Mr. Rego did not only teach us about the art of boxing, he taught us all how to live as athletes. He often talked about healthy eating, natural herbs, pre-competition meals and rest.
Mr Rego with Leo Richardson, Nikki Bascome and Garon Wilkinson in 2016: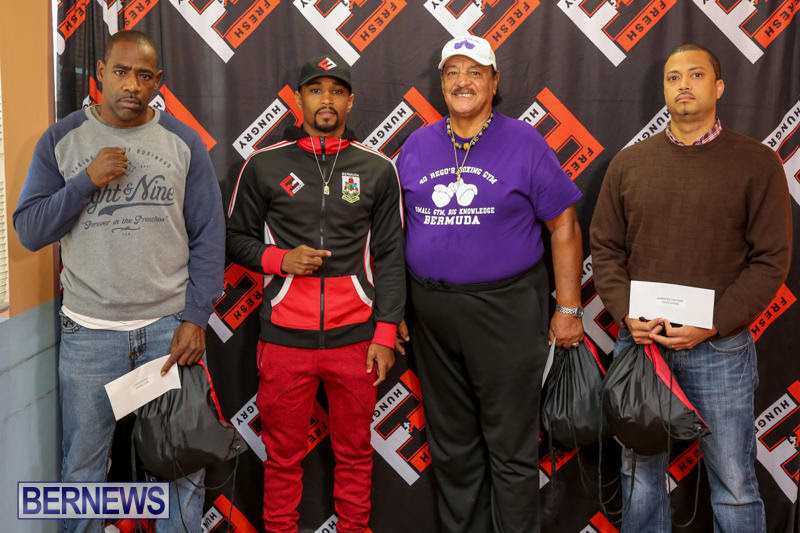 "Joyful nights bring sorrowful days' he would tell us as we struggled running our hills early Sunday mornings at Horseshoe Bay. Mr. Rego was also a God fearing man. Imagine asking God to help us to hit someone so hard in their liver that they have to sit down? Mr. Rego would often pray with us before going to battle and would always ask 'If God is with us, who can be against us?'
"Mr. Rego was indeed an icon, a legend and a very proud Bermudian. All of us at BSA value the time that he spent with us and all the knowledge that he shared. We will miss him dearly. His legacy will live on as we pass on his knowledge from our generation to the next.
"To all of the Rego family, we are all so grateful that you shared Forty with us. We pray for you and ask that God be with all of you."

Read More About