The Bermuda Jump Rope Federation [BDAJRF] will be hosting a mid-term Jump Camp from Wednesday, February 14 to Friday, February 16 from 8.30am to 5.00pm each day at the CedarBridge Academy gymnasium.
A spokesperson said, "The camp will be staffed by World Jump Rope Champion International Ambassadors. Camp fees are $100. Offered to boys and girls, 6-years-old and up, beginners to advanced jumpers are encouraged to sign up and jump into the innovative sport of jump rope.
"Not only will jumpers get to learn about the different dynamics of the sport, they will also get to work with our certified coaching staff to cross train in gymnastics. The first 50 campers to sign up will receive a Bermy Bouncer Camp t-shirt."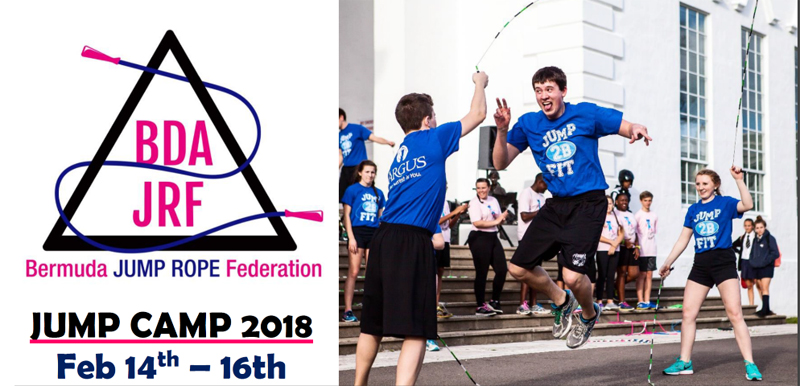 "Jumpers will need to bring a healthy lunch each day. Snacks, water and ropes will be available for sale at camp. Jumpers should wear sneakers, not flip flips, or crocs, to camp.
"The community are welcome to come to our free Camp showcase on Friday, February 16 at 7.00 at the CedarBridge Academy gymnasium to see what the kids have learned, and just what our staff can truly do. Our world champion, experienced international instructors will share their skills and smiles.
"The BDAJRF's Jump Camp is proud to be part of the Bermuda Heart Foundation's Heart Month. Teaching kids the importance of living a healthy lifestyle through a lifetime activity such as jump rope is one of our main goals.
"The camp wouldn't be possible without our sponsors: Argus Insurance, CHUBB, Butterfield & Vallis, Barritt's, Dunkley's, and CedarBridge Academy.
"For further information, contact director Sionna Barton by telephone on 531-7714 or by email at bdajrf@gmail.com, or follow the BDAJRF on their public Facebook page.

Read More About